12 Best Water Filters in Malaysia (2023) For Clean Water
"Water is the driving force of all nature."

Leonardo Da Vinci
With water being a fundamental necessity, individuals are seeking reliable filtration solutions to ensure the purity and safety of their drinking water.
By taking proactive steps to secure clean water, Malaysians are prioritising their health and well-being, making water filters an integral part of their households.
With that, they can indulge in the untainted taste of pristine water, free from impurities and contaminants. This is a fundamental cornerstone for optimal health.
What is a Water Filter?
A water filter is a device or system designed to remove impurities, contaminants, and undesirable substances from water. It works by employing various physical, chemical, or biological processes to purify the water and improve its quality. The main goal of a water filter is to get cleaner water.
With an overwhelming number of water filters available in the market, choosing the right one can be a daunting task for customers.
Let's explore the top 12 water filters in the industry to discover the best solution for enjoying pure, refreshing water in the comforts of your own home.

1. 3M Countertop Drinking Water System CTM-02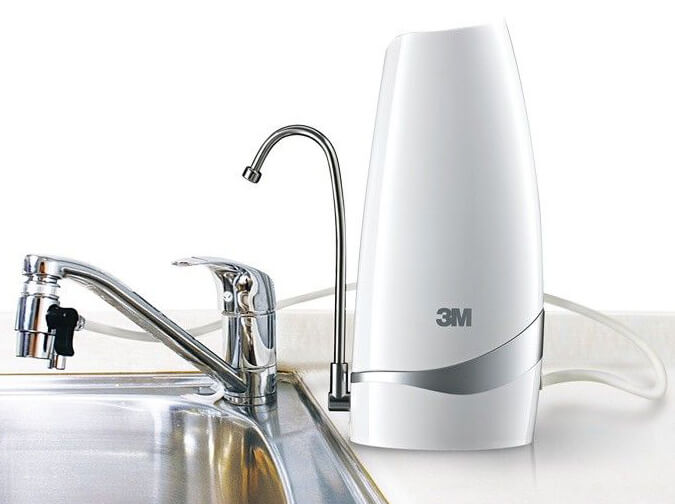 The 3M Countertop Drinking Water System CTM-02 is an elegantly designed and highly efficient water filtration system that provides easy access to better quality drinking water in your home. The system's advanced filtration technology reduces chlorine taste and odour, cysts, particulates, lead, mercury, benzene, toxaphene, and P-Dichlorobenzene down to an impressive 0.5 micron.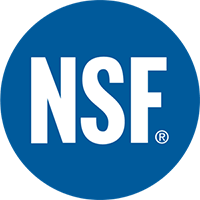 One of the standout features of this system is its NSF International certification, ensuring that the filter cartridge meets the highest standards of filtration performance and safety. The Sanitary Quick Change (SQC) cartridge design allows for fast and easy cartridge replacement in just 10 seconds, without the need for any drilling during countertop installation.
With over 80 years of experience in filtration technology, 3M Purification has established itself as a trusted expert in the industry. The affordability of the system, including the replacement cartridge, makes it an accessible choice for every household.
3M Countertop Drinking Water System CTM-02 utilises Pre-activated Carbon Block Filtration Technology to effectively remove rust, dirt, sediments, and various contaminants, providing safe and clean drinking water.
Maintenance is a breeze, as filter cartridge replacements can be conveniently purchased online and replaced in just four simple steps. The sleek and compact design of the system fits seamlessly into any kitchen, while the fast water flow rate ensures that filtered water is readily available within seconds.
User Reviews for 3M Countertop Drinking Water System CTM-02
Excellent water filter. The filtered water tastes just like bottled water. I can say this because after installation we did a blind taste test. My wife only drinks bottled water because she hates the taste of tap water, and she thought the water from the filter was bottled water. Now we don't need to buy bottled water anymore.

Eddie
Easy to install, removes flavours and odours from water very well.

Ken
---
2. Panasonic Water Purifier TK-CS20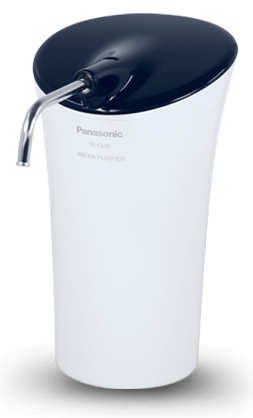 Crafted in Japan, the Panasonic Water Purifier TK-CS20 bears the hallmark of excellence and dependability that the brand is renowned for. With its affordable price point, it is an ideal choice for those who are new to using water purifiers and seeking a reliable yet introductory option.
With an impressive lifespan of up to 12,800 litres of consumption, the filter of the Panasonic Water Purifier TK-CS20 ensures long-lasting performance and reliable water purification.
Its user-friendly features and straightforward operation make it convenient for beginners to incorporate into their daily routines. To further enhance convenience, the purifier is equipped with a helpful checker that reminds you when it's time to replace the filter, ensuring consistent and effective filtration.
Whether you're looking to explore the benefits of a water purifier for the first time or seeking a budget-friendly solution without compromising on performance, the Panasonic TK-CS20 offers a reliable choice to meet your needs.
User Reviews for Panasonic Water Purifier TK-CS20
The water purifier has a sleek design. Looks good and fits seamlessly into my new apartment.

Haoxiang
Good product. I do appreciate the indicator function which is extremely helpful to remind me to change the filter – something which I always forget to do since I'm always so busy.

Nabil F.
---
3. Cuckoo King Top 2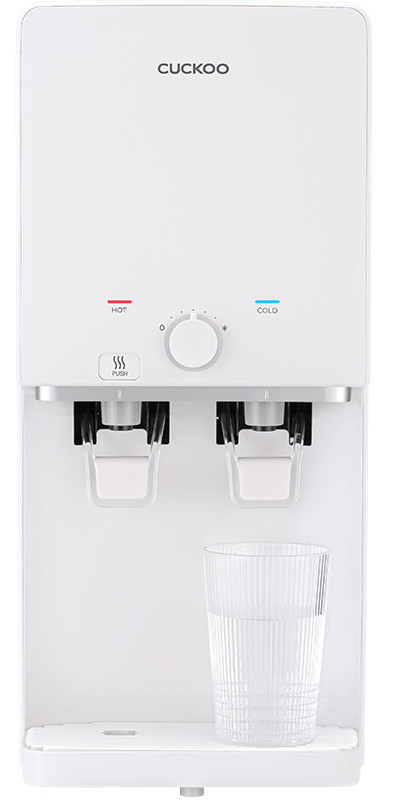 Since its establishment in 2014, Cuckoo has become a trusted Malaysian brand, widely recognised for its commitment to delivering high-quality water purification solutions.
With a focus on innovation, reliability, and customer satisfaction, Cuckoo has earned the trust and loyalty of numerous households across Malaysia. With its innovative R&D, the new and upgraded King Top 2 retains its minimalist modern design and retains its exceptional performance.
In line with their slogan "We Know, We Care', Malaysians can confidently turn to Cuckoo, knowing that they are choosing a brand they can rely on.
User Reviews for Cuckoo King Top 2
I absolutely love this water purifier! It's great value for money, water tastes fine, also the hot and cold water feature is a superb addition. It's so easy to make a cup of tea, or instant soup/noodles with piping hot water. Also, if you have a baby in the family, the instant hot water feature is really useful.

De De
The good thing about it is that it has both hot and cold water function at a reasonable price. Also, the after-sales service at Cuckoo is amazing. The hot water option in this is great as no other brands have it.

Arramreddy S.
---
4. Coway Villaem II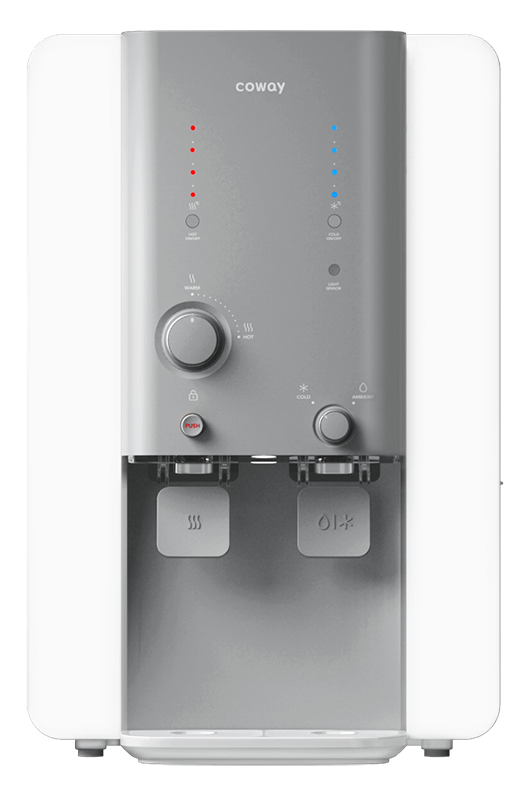 A state-of-the-art filtration system that combined advanced technology with a sleek design, the Coway Villaem II is an improved version with user-friendly features. Its multi-layered filtration process ensures that you enjoy water that is not only safe but also tastes great. In fact, it is the only large Coway water purifier that will continue to filter and fill water during a power outage.
The inclusion of a natural ceramic filter adds minerals to enhance the water's quality, while the advanced RO filter removes microscopic particles and impurities. With its compact size, Coway Villaem II is suitable for both small and large households.
User Reviews for Coway Villaem II
First of all, the water purification ability is very good. I also like that it is very easy to install and change the filter. Unlike other countertop products, the design is very good and the size is small, so it goes well with my kitchen. I think the quality of Coway products is great. Highly recommended.

KH
I love my Coway Villaem 2!!! After buying hundreds of refills for a genetic filter that really never did the job and wasting money again and again, I finally broke down and paid a little more for a good water filter. The quality of our water in our apartment… let's just say it's not the best. I didn't want to waste money on water bottles again and again, so a good water filter is a must! The water that comes out of this filter is crisp and delicious with no strange aftertaste.

Shelby T.
---
5. Diamond Classic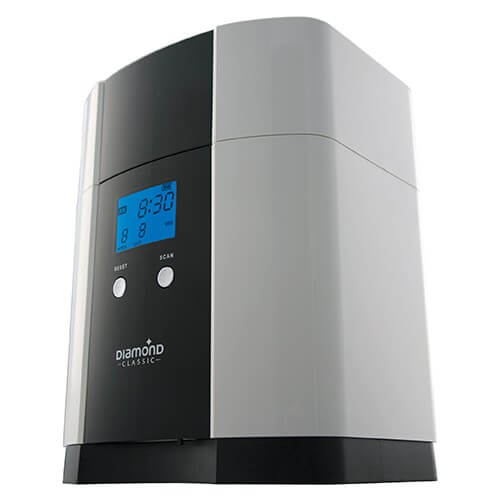 Despite its name, the Diamond Classic water filter is anything but outdated. In fact, it is widely celebrated as a highly popular choice among Malaysians seeking efficient water filtration solutions.
With an impressive water filtration volume of up to 1.5L per minute and a water pressure capability of approximately 40PSI, the Diamond Classic water filter stands out for its exceptional performance. It has become a preferred option for many due to its ability to effortlessly handle high water pressures, even up to 60PSI when required. This versatility and robustness make it an ideal choice for various applications and environments.
User Reviews for Diamond Classic
I've had the pleasure of using this water purifier for several months now, and I am amazed by the results. The difference in taste is incredible, and I no longer have to rely on bottled water. The multi-stage filtration system ensures that every drop of water is thoroughly purified, giving me peace of mind about the safety of my family's drinking water.

K.K.
---
6. ELKEN Bio Pure K200
The ELKEN Bio Pure K200 not only features a powerful 5-stage filtration system but also goes the extra mile to deodorize and polish the water, resulting in an immaculate taste of aqua perfection.
By eliminating any lingering odours and refining the water's texture, it offers a refreshing and satisfying drinking experience. Experience the pinnacle of water purity and enjoy the pristine taste that the ELKEN Bio Pure K200 delivers, ensuring every sip is a true delight.
User Reviews for ELKEN Bio Pure K200
After using the Bio Pure System, my quality of life has totally improved! The water is completely clean, pure and free from bacteria, chlorine, chemicals and toxins, and there is no weird taste to the water. I couldn't ask for more!

Nura
---
7. 3M Whole House Water Filtration System AP902
The 3M Whole House Water Filtration System AP902 is a robust and reliable filtration system that serves as the first line of defence to protect your water from impurities as it enters your home.
With its durable design and efficient performance, this system offers comprehensive filtration for your entire household. The AP910R replacement cartridge is specifically tailored for the 3M Whole House Water Filtration System AP902, ensuring continued protection and peace of mind. Certified by NSF International, an independent lab renowned for stringent health and safety standards, this system meets the NSF/ANSI Standard 42 for reducing taste, odour, particulates, and chloramine, as well as the NSF/ANSI Standard 53 for effectively reducing contaminants like lead, pesticides, and cysts.
Installed downstream from the water meter or well pump, 3M Whole House Water Filtration System AP902 acts as a point-of-entry (POE) solution, offering comprehensive filtration to protect your plumbing and fixtures while enhancing the taste, colour, and odour of your water.
Maintenance is effortless, with simple quarter-turn cartridge replacement akin to changing a light bulb. If needed, professional assistance from your local plumbing service is available. Not only does the 3M Whole House Water Filtration System AP902 ensure improved water quality and taste, but it also helps reduce sediment build-up, extending the lifespan of hot water heaters and other household appliances.
Benefit from the convenience and peace of mind offered by the 3M Whole House Water Filtration System AP902, as it provides clean and refreshing water while safeguarding your plumbing system and optimising appliance performance.
User Reviews for 3M Whole House Water Filtration System AP902
Been using 3M AP902 outdoor filter since last month and water quality has significantly improved. No more visible white watermark sighted on sink. Fast shipment by XAMMAX! Note: DIY installation.

Jason T.
I've been using this 3M outdoor filter for a few weeks now. There is no decrease in the water flow. The design is neat and small, unlike the space-consuming filters I see in my neighbours' houses. No backwash needed. Just set and forget until cartridge replacement after 1 year or so. There is an installation charge but the installer is highly professional. XAMMAX is the top choice when it comes to 3M water filters.

Thong B.
---

8. Bacfree Watero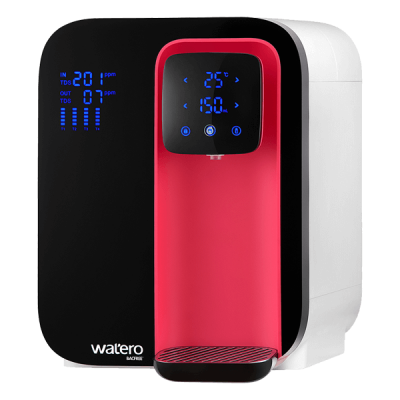 The Bacfree Watero Water Filter is a portable and versatile solution that seamlessly fits into small families.
With its 5-temperature settings and 5-volume settings, it caters to a range of beverage preferences. For instance, 45 degrees Celsius is ideal for warm water and formula milk, while 60 degrees Celsius suits honey drinks, 85 degrees Celsius is perfect for tea, and 100 degrees Celsius is ideal for coffee.
The filter's "on-demand" heating feature ensures no re-boiling of water, preventing the concentration of chemicals and heavy metals that can be harmful to health. This not only guarantees cleaner and healthier water but also saves energy by consuming electricity only during the water heating process.
User Reviews for Bacfree Watero
Love the green unit. It's very convenient for my small family since it's portable.

Adil
---
9. Joven JP 200
The Joven JP 200 water filter is a reliable choice that offers several standout features. With its stainless steel outlet pipe, it ensures rust-free water flow, providing you with clean and safe drinking water.
The ergonomic design, constructed with high-quality food-grade plastic, not only enhances durability but also ensures the safety and purity of the filtered water. One of the great advantages of the JP 200 is its flexibility in usage.
You can conveniently use unfiltered water for washing purposes, while reserving filtered water for cooking and drinking, giving you the flexibility to meet different needs around your household.
The Joven JP 200 water filter is not only a reliable choice but also an affordable one, priced at RM 169. This makes it a perfect option for individuals or families who are new to using water filters and want to explore the benefits without breaking the bank. Despite its affordable price, the JP 200 does not compromise on quality or performance.
---
10. Sterra Y Tank Tabletop Hot & Cold Water Purifier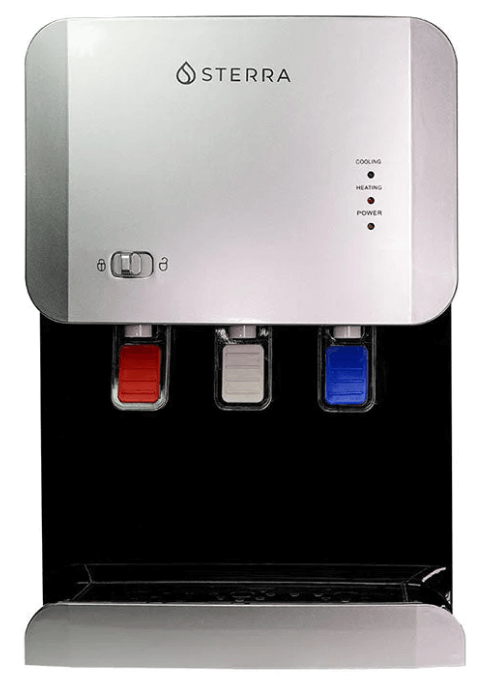 The Sterra Y Tank Tabletop Hot & Cold Water Purifier is a reliable solution that ensures clean, healthy, and pure water. With its comprehensive filtration capabilities, it effectively removes rust, suspended solids, odours, residual chlorine, bacteria, and unpleasant tastes, resulting in refreshing and purified water.
The dispenser utilizes advanced technology derived from the experienced Korean manufacturer OVIO, known for its expertise in the water dispenser and purifier industry for over two decades. With the Sterra Y Tank Tabletop Hot & Cold Water Purifier, you can confidently quench your thirst and hydrate knowing that you have a reliable and convenient solution for clean and refreshing water.
---
11. LG PuriCare Tankless Water Purifier
The LG PuriCare Tankless Water Purifier is an innovative and advanced solution for clean and purified water. With its tankless design, it eliminates the need for a water storage tank, ensuring fresh water every time without worrying about microorganism growth.
It also offers peace of mind by connecting to the LG ThinQ app, allowing you to monitor and control your purifier from anywhere, anytime. With the app, you can receive important notifications and reminders, including voice guidance to let you know when it's time to replace the filter. This ensures that you never miss a maintenance task and always have access to clean drinking water.
The 180 degrees rotating tap of the LG PuriCare provides easy access to clean water, allowing you to fill up containers or glasses effortlessly. Its super slim design not only saves space but also adds a sleek touch to your kitchen decor.
Moreover, the LG PuriCare adjusts to your lifestyle with its self-service capabilities and intuitive maintenance functions. By performing certain maintenance tasks yourself, you can save money and have greater control over the upkeep of your water purifier.
User Reviews for LG PuriCare Tankless Water Purifier
Bought this product a month ago. My wife and I like it and it is way better than our current 5-year old water purifier. It's easy to use and kids-friendly. My 7 year-old daughter found it super easy and fun to use the machine. It removes unwanted impurities from water such as sediment, taste and odour, hardness and bacteria to result in better quality water. Great product!

Kok W.
I bought this end of last year. It saves a lot of space and my mom really likes it. Price is super reasonable compare with other brands yet the features are complete. Happy user so far.

Joycelyn
---
12. Xiaomi 600G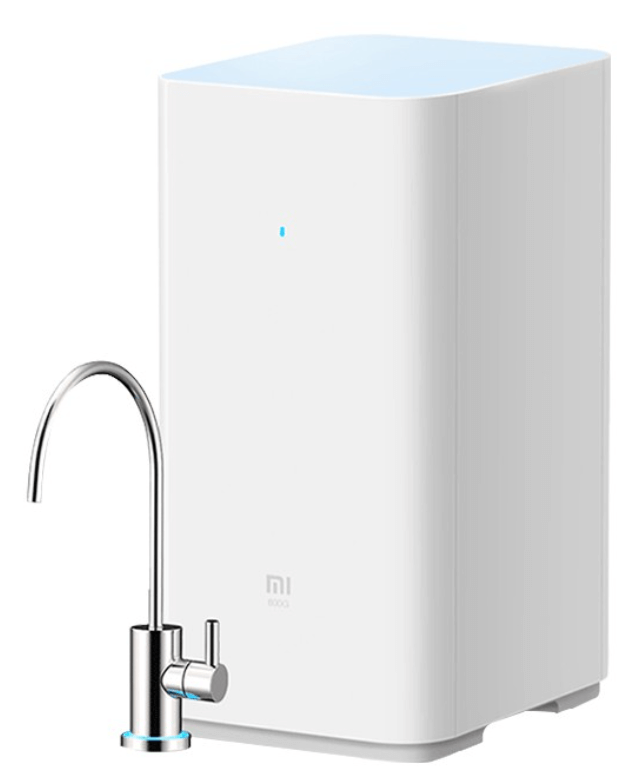 The Xiaomi 600G is an essential solution for efficient water purification. It combines advanced technology with carefully selected components to ensure purified water and proper sanitation standards.
The four filters, including a cotton filter, activated coconut carbon filters, and an RO membrane, provide deep purification, removing impurities, colouration, odour, and improving taste. With features like RO reverse osmosis filtration core automatic washing technology and intelligent pure water-producing technology, this filter operates at a high production rate while maintaining excellent filtration capabilities.
It is easy to install, integrates seamlessly into the Xiaomi ecosystem, and offers a large capacity and high-speed flow to meet the needs of both small families and large households.
User Reviews for Xiaomi 600G
The Xiaomi Mi Smart Water Purifier works well for the family giving us a nice amount of smart features such as real-time water quality monitoring and reliable purification of water. The quality is good, the filters are super easy to replace and the app is easy to navigate and use.

Fiona
It meets the requirements of our family and it was easy to install and use and control via our phone. The taste of the water is very good – as if it was a bottle of purchased water. Now I can use the water for cooking too.

Gan Q.Y.
---
Recommended Water Filters
1) Independent Certifications
Unless you are a scientist, it is so hard to actually be able to tell if a water filter is working effectively.
Certification is one of the best ways to ensure your water filter is removing the contaminants as it claims.
Some of the credible certifications in the water filter industry are:
National Sanitation Foundation (NSF): Founded in 1944, NSF is an American product testing and certification organization.
Food and Drug Administration (FDA): Founded in 1906, the FDA is a federal organization of the Department of Health and Human Services in the United States.
Generally, the more credible certifications a water filter has, the more contaminants it can remove.
That said, Rick Andrew of NSF International advises that you should make sure it's indeed certified. Avoid marketing jargon such as "filters to NSF standards" because it means it might not be tested.
2) Replacement Cartridges
Cartridge cost is a big factor in the long term. A water filter is only as good as its filters, so be sure to check the price and availability.
A good water filter would allow you to change the cartridges yourself because it saves you time and money. In other words, avoid brands that tie you to a maintenance subscription.
3) Cost
The water filters prices vary. They can cost from hundreds to thousands of dollars. The most expensive filter does not imply that it is the best. You might just be paying for their advertising cost.
The good news is that all the water filters recommended above can do the job of reducing contaminants – but make sure to check their certifications. Also, consider the cost of cartridges and how often they will have to be replaced.
So…Which Water Filter Should You Go for?
With that list of water filter comparisons, which is the best water purifier or water filter for your family?
To answer that, ask yourself…
"Which type of water filters do I need?"
Generally, there are 3 types of water filters in Malaysia:
We would recommend an indoor drinking water filter as the priority.
The reason is obvious, you drink water every day and it has a direct impact on your health.
A modern water dispenser, on the other hand, is an "upgraded" version of an indoor water filter.
It not only filters the drinking water but also serves hot water whenever you need it.
An outdoor water filter provides clean water for your entire house.
So water from your showerhead, washing machine and kitchen tap is filtered before they enter your house.
If you have a flexible budget, you can invest in an outdoor water filter and pick either an indoor water filter or a water dispenser.
This way, you can have peace of mind that your family members are getting cleaner and safer water.
However, keep in mind that the water filters you pick should be NSF certified/tested like the range of water filters we offer.
---
Our Pick
We highly recommend the 3M Countertop Drinking Water System CTM-02.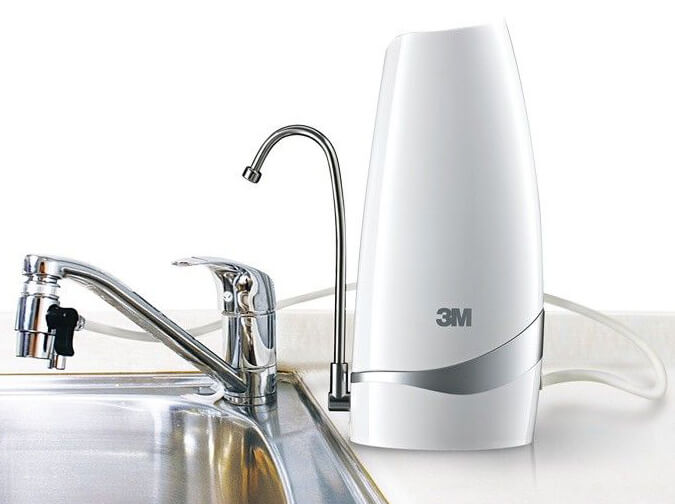 Reasons why we consider this among the best water filters in Malaysia:
---
Malaysia Best Water Filters FAQ
What is the best water filter brand in Malaysia?
If you take NSF certification, technology, and the ease of cartridge replacement into consideration, 3M would be a perfect choice.
Are water filters the same as water purifiers?
These two terms are used interchangeably but generally, a water purifier is more powerful in terms of treating the water.
How much do water filters cost?
It depends on the water filter type. A drinking water filter costs around RM750, while a water dispenser cost over RM3000. You should also consider the cost of the cartridge in the long term.