10 Best Water Filters in Malaysia (2023) For Clean Water
"Water is life, and clean water means health."

Audrey Hepburn
The fact that we are using water every day, and 60% of our body is made up of water, are reasons why more Malaysian are investing in a water filter in their home.
What is Water Filter?
A water filter removes contamination by reducing the pollutants with a physical filter, a biological process, or a chemical process.
With the extensive range of brands in the market, which is the best water filters in Malaysia?
To answer that, we have made a list of 10 water filters reviews.
Let's dive in.
1. 3M Countertop Drinking Water System CTM-01 SE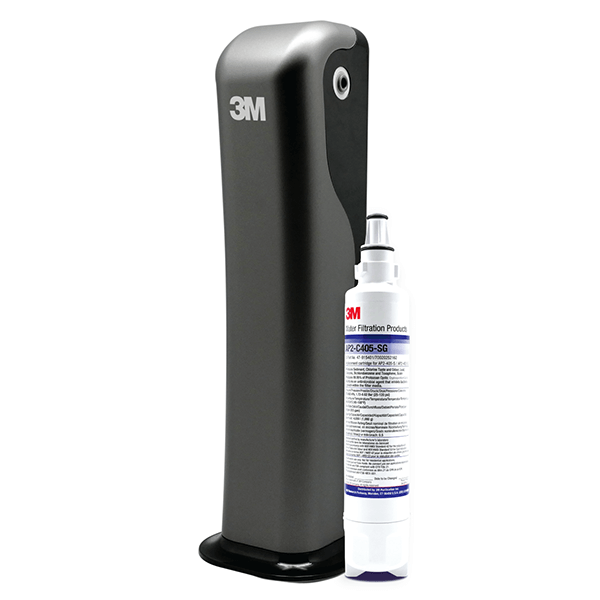 3M Countertop Drinking Water System CTM-01 SE is no doubt a fantastic starting point in the list.
Simply because it is…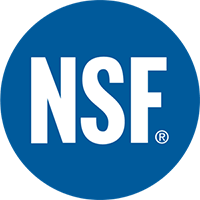 NSF Certified
National Sanitation Foundation (NSF) is one of the highest levels of assurance you can get in water filtration quality. It is proof that the product complies with strict standards set by NSF, a non-profit organization since 1944.
It comes with a bacteria inhibitor, a unique component that minimizes bacterial growth in the filter media.
Its "Sanitary Quick Change" system makes you look like a smart family man too. You can replace the cartridge yourself in less than 10 seconds. No experience needed, no tools needed – simply twist like opening a water bottle cover.
In our opinion, self cartridge replacement is better than brands that tie you up for long term maintenance. Changing cartridges yourself can really save you a lot of money and time in the long term.
3M Countertop Drinking Water System CTM-01 SE is definitely one of the top water filtration systems for Malaysians, and one we would recommend wholeheartedly.
User Reviews for 3M Countertop Drinking Water System CTM-01 SE
Product arrived just within two days. Though I need a faucet adaptor as my kitchen faucet is of different size than 3M's, I managed to install it within few minutes after getting a faucet adaptor. 3M also provides extra six months extra warranty when you register on their website. seller is responsive and I'm happy. Overall, it's good.

Jon N.
Very good product. Installed and worked like a charm. Replacing coway genie. Water no odour and very clear. Easy installation too.

Lucas Low
---
2. Panasonic Water Purifier TK-CS20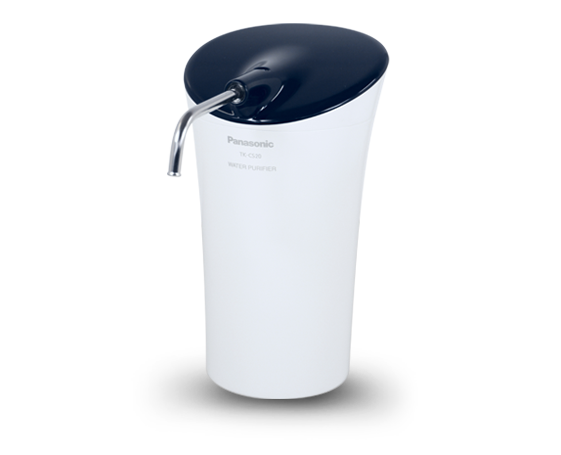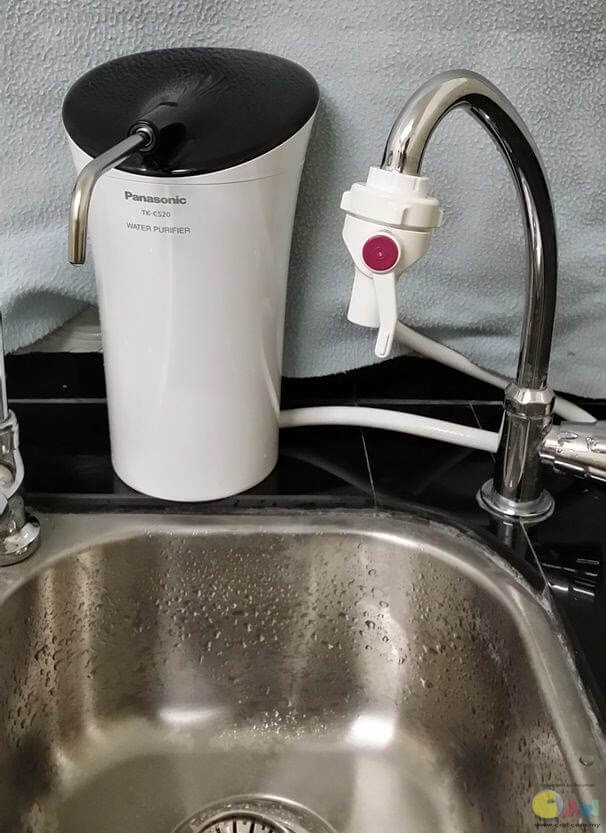 Very impressive and thorough in its strength, the TK-CS20 water filter from Panasonic can filter a whopping 6l of water in a single minute.
It clears coarse particles of dirt in the water, as well as absorbing harmful substances with its powdered activated carbon.
Long Cartridge Life
The filter can last up to 12,800L of consumption. There is even a checker to remind you about the replacement.
This water filter is small enough to fit into even the smallest of kitchen spaces, too!
User Reviews for Panasonic Water Purifier TK-CS20
Good product, i've been using the smaller size for almost 7 years. now bought a bigger one. My wife said a bit big for 4 family members. I do appreciate the indicator function.

Nabil F.
Easy to set up, suit for small home and rental. Somehow not so sure how the indicator use.

unicmarc
---
3. Cuckoo VIVID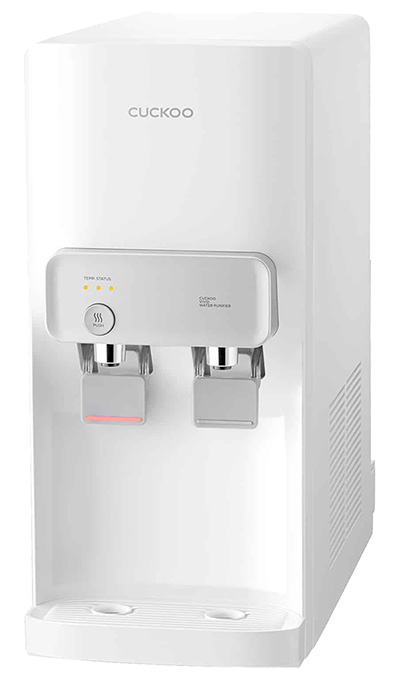 Many Malaysian pick the Cuckoo VIVID because of its claim "Biggest Hot Water Tank in Town".
The stainless steel of the water tank makes sure that it won't start rusting and eroding on you.
The child safety lock protects your kids from putting themselves at risk.
User Reviews for Cuckoo VIVID
Sangat sesuai guna di rumah.

Anam
Excellent slim design and got a large hot water tank.

Kay Lim
---
4. Coway NEO PLUS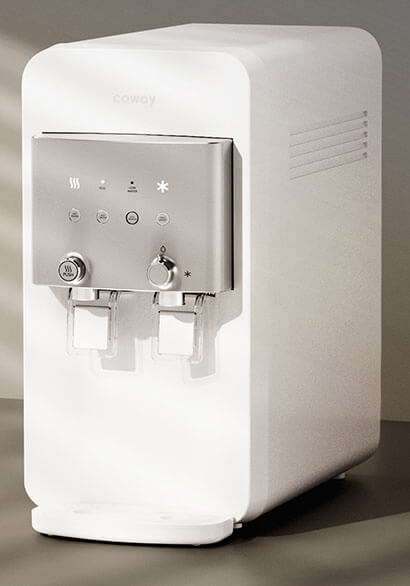 With its 5-step filtration system, Coway NEO PLUS is capable to get rid of chlorine, harmful contaminants, and odours.
The compact size means that you don't have to worry about it taking up an excessive amount of room.
It comes with a low water level indicator, a child safety lock, and detachable faucets.
---
5. Diamond Classic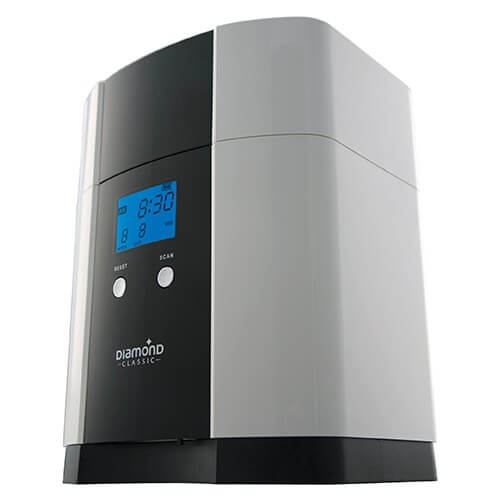 The name might imply something that is outdated, but that could not be further from the truth. The Diamond Classic is a hugely popular water filter in Malaysia.
It has a water filtration volume as high as 1.5L per minute, with a water pressure of around 40PSI. This makes it a very popular choice for numerous reasons, not least the fact that it can easily manage and handle water pressures as high as 60PSI if needed.
To be honest, weighing 11kg filled with water, we think this water filter is a bit bulky and heavy as compared to other modern solutions.
User Reviews for Diamond Classic
No reviews yet.
---
6. Elken Bio Pure K-200
Capable of dispensing both hot and cold water, the Elken Bio Pure K-200 is one of the most common water filters in Malaysia.
5-stage Reverse Osmosis (R.O.) Purification System
By using a 5-stage reverse osmosis system, it purifies the water by using a patented system. It can get rid of viruses that reach as small as 0.001 microns.
Using FDA-compliant ABS Food Grade reservoir material, the airtight cover prevents contaminants from entering.
Watch this video to learn more about Elken Bio Pure K-200.
User Reviews for Elken Bio Pure K-200
No reviews yet.
---
7. Bacfree Watero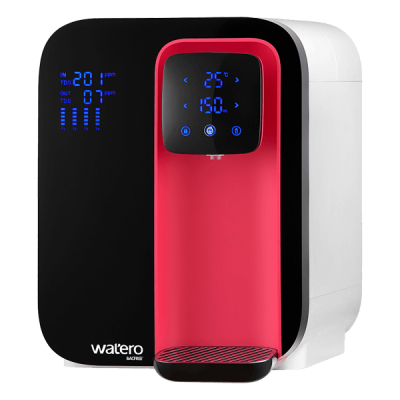 If your aim is to buy a technologically sound option for your water purifier, then we recommend that you take a look at Bacfree Watero.
It is a common model among any water filters comparison in Malaysia.
Its 5 water temperature settings are very much suitable for everyone in the home:
25°C – drinking water
45°C – baby's formula milk
60°C – honey drink
85°C – tea
100°C – coffee
5 Stage Filtration Process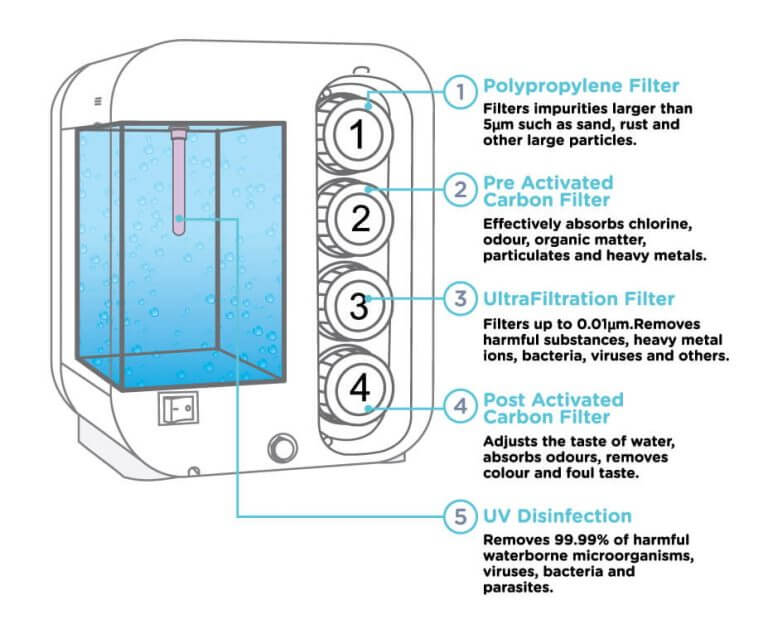 Other benefits include its Halal certification, easy installation, and child safety lock.
Watch this 2-minutes video to learn what Bacfree Watero can do for you:
User Reviews for Bacfree Watero
Watero was my choice ever since it was launched. It integrates the UF version which I like more than RO membrane. Easy to use. It replaced my countertop water filter, kettle and water jugs etc with only this one elegant unit.

Fong
Great water filter for small family. It integrates water filter, thermos pot, kettle and water container with just one unit. The container is a little small at 3 liter though. Hopefully the unit can last long. It fulfils my requirements and considered a good product.

Tam S.
---
8. Joven JP200 Water Filter
The key feature of the Joven JP200 water filter is that it comes with 3 layers of non-woven fabric filter and powdered activated carbon.
This helps to remove 99.9% chlorine, sediment, rust, odour, and turbidity from tap water.
2 Function Selector Valve
The fact that it can be turned on and off means that you can still use unfiltered water for things like washing dishes and cleaning up, whilst keeping the 'good', filtered water for the water that you will actually drink.
Overall, an excellent investment for any health-conscious individual.
User Reviews for Joven JP200 Water Filter
The downside is that pressure is quite low, so you cannot open the tap too big when filtering water. Also, the non-filtered tap sprays the water everywhere though. When washings dishes the water splash on the entire kitchen sink.

Leon L.
We use this water filter for our new house. At the time of writing, all existing residents have not died yet since using water from this product. It tastes like real water. Thank you for keeping us alive.

Khairul J.
---
9. 3M Whole House Water Filter System AP902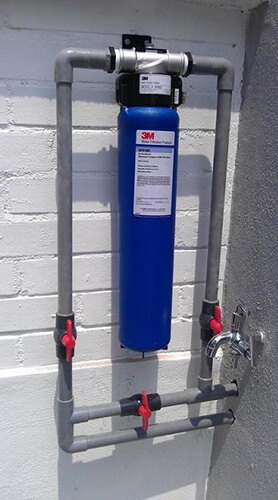 Similar to the first one, 3M Whole House Water Filter System AP902 is NSF certified.
It means that it is meeting international standards for better water quality set by National Sanitation Foundation.
Cleaner Water From the Point-of-entry
As the name "whole house" suggests, this model provides clean water for the entire house. Commonly known as an "outdoor water filter", it is to be installed at the main inlet at the house entrance.
Being certified by NSF, this water filter helps to:
Reduces taste and odour.
Eliminates sediments, particulate, sand and rust down to 5 microns. That is 10 times finer than a strange of hair!
Reduces lead, cysts, and pesticides which result in diarrhea and nausea.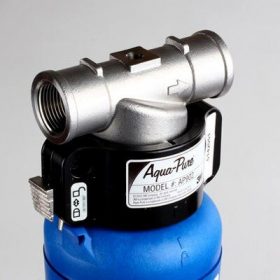 3M Whole House Water Filter System AP902 is manufactured from FDA compliant material.
The stainless steel head and die-cast zinc locking latch ensure the product lasts long and protect your house water for many decades.
Unlike some brands that made maintenance complicated and tie you up for recurring service fees, you can easily change the 3M water filter cartridge just like this:
In terms of its quality, price, the space it takes up, and long-term maintenance, this is definitely the best outdoor water filter you can get in Malaysia.
User Reviews for 3M Whole House Water Filter System AP902
Been using 3M AP902 outdoor filter since last month and water quality has significantly improved. No more visible white watermark sighted on sink. Fast shipment by XAMMAX! Note: DIY installation.

Jason T.
I've been using this 3M outdoor filter for a few weeks now. There is no decrease in the water flow. The design is neat and small, unlike the space-consuming filters I see in my neighbours' houses. No backwash needed. Just set and forget until cartridge replacement after 1 year or so. There is an installation charge but the installer is highly professional. XAMMAX is the top choice when it comes to 3M water filters.

Thong B.
---
10. LG PuriCare Tankless Water Purifier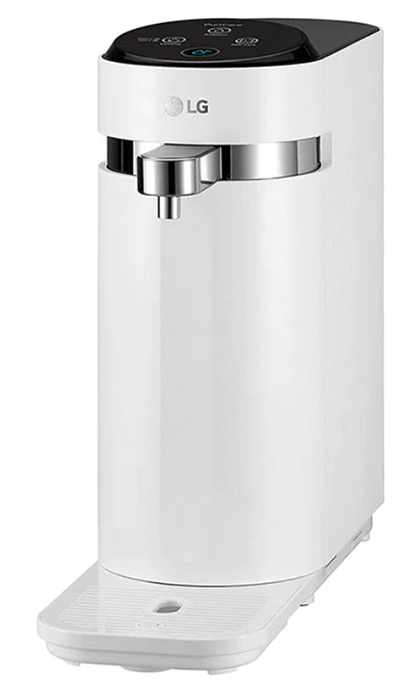 LG PuriCare Tankless Water Purifier delivers clean drinking water with direct filtration without a water tank. Tankless is the current trend to prevent microorganisms from growing.
Its 3-stage filtration helps to eliminate microorganisms and 7 types of heavy metals – mercury, lead, arsenic, cadmium, iron, copper, aluminium.
It is as simple as one touch to get ambient water right away.
The slim design ensures that this can fit into most kitchens without looking out of place. It is smartly designed so that you can install it horizontal or vertical:


A reliable and easy-to-use filter. Definitely a useful option for those needing a minimally-sized filter.
User Reviews for LG Tankless PuriCare Water Purifier
No reviews yet.
---
What to Look for When Buying a Water Filter
1) Independent Certifications
Unless you are a scientist, it is so hard to actually be able to tell if a water filter is working effectively.
Certification is one of the best ways to ensure your water filter is removing the contaminants as it claims.
Some of the credible certifications in the water filter industry are:
National Sanitation Foundation (NSF): Founded in 1944, NSF is an American product testing and certification organization.
Food and Drug Administration (FDA): Founded in 1906, the FDA is a federal organization of the Department of Health and Human Services in the United States.
Generally, the more credible certifications a water filter has, the more contaminants it can remove.
That said, Rick Andrew of NSF International advises that you should make sure it's indeed certified. Avoid marketing jargon such as "filters to NSF standards" because it means it might not be tested.
2) Replacement Cartridges
Cartridges cost is a big factor in the long term. A water filter is only as good as its filters, so be sure to check the price and availability.
A good water filter would allow you to change the cartridges yourself because it saves you time and money. In other words, avoid brands that tie you to a maintenance subscription.
3) Cost
The water filters prices vary. They can cost from hundreds to thousands of dollars. The most expensive filter does not imply that it is the best. You might just be paying for their advertising cost.
The good news is that all the water filters recommended above can do the job of reducing contaminants – but make sure to check their certifications. Also, consider the cost of cartridges and how often they will have to be replaced.
So…Which Water Filter Should You Go for?
With that list of water filter comparisons, which is the best water purifier or water filter for your family?
To answer that, ask yourself…
"which type of water filters do I need?"
Generally, there are 3 types of water filters in Malaysia:
We would recommend an indoor drinking water filter as the priority.
The reason is obvious, you drink water every day and it has a direct impact on your health.
A modern water dispenser, on the other hand, is an "upgraded" version of an indoor water filter.
It not only filters the drinking water but also serve hot water whenever you need it.
An outdoor water filter provides clean water for your entire house.
So water from your showerhead, washing machine and kitchen tap is filtered before they enter your house.
If you have a flexible budget, you can invest in an outdoor water filter and pick either an indoor water filter or a water dispenser.
This way, you can have peace of mind that your family members are getting cleaner and safer water.
However, keep in mind that the water filters you pick should be NSF certified/tested like the range of water filters we offer.
---
Our Pick
We highly recommend the 3M Countertop Drinking Water System CTM-01 SE.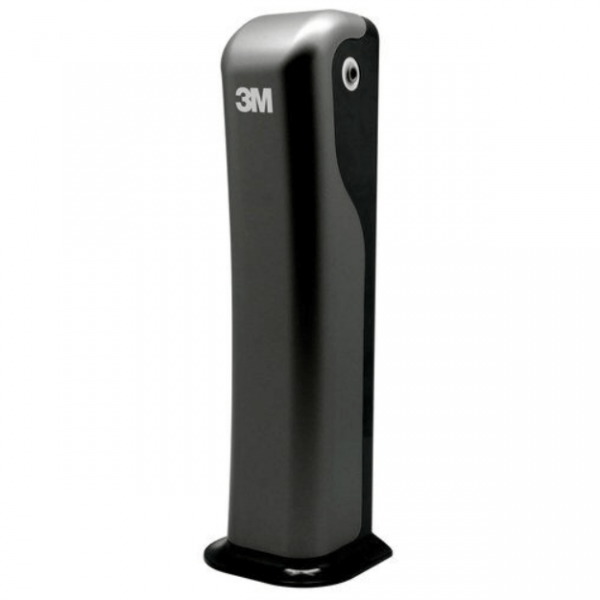 Reasons why we consider this among the best water filters in Malaysia:
It is NSF tested. It has met the evaluation from the most respected international standards in the industry.
3M is widely used in the healthcare and commercial industries across the United States and the world.
The technology applied, IMPACTechnology, UV Lamp Filtration, and Carbon Block Technology, keep the water quality to the very highest standards.
Sanitary Quick Change (SQC) system makes cartridge repleacement as easy as it should be. Compared to other brands, it saves you money and time in the long term.
---
Malaysia Best Water Filters FAQ
What is the best water filter brand in Malaysia?
If you take NSF certification, technology, and the ease of cartridge replacement into consideration, 3M would be a perfect choice.
Are water filters the same as water purifiers?
These two terms are used interchangeably but generally, a water purifier is more powerful in terms of treating the water.
How much does water filters cost?
It depends on the water filter types. A drinking water filter costs around RM750, while a water dispenser cost over RM3000. You should also consider the cost of the cartridge in long term.