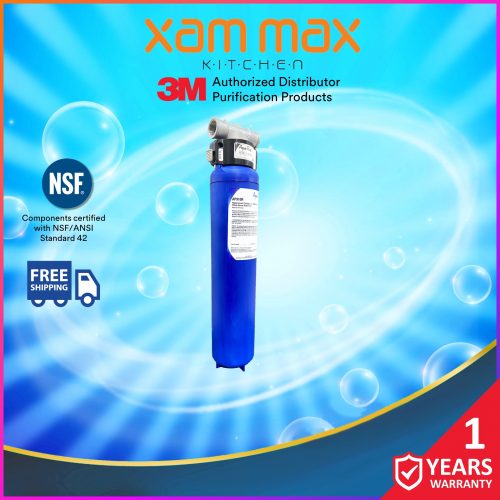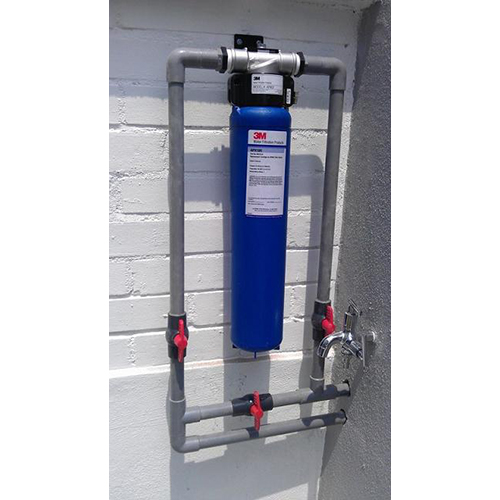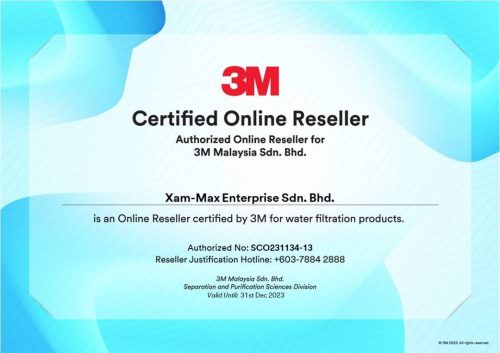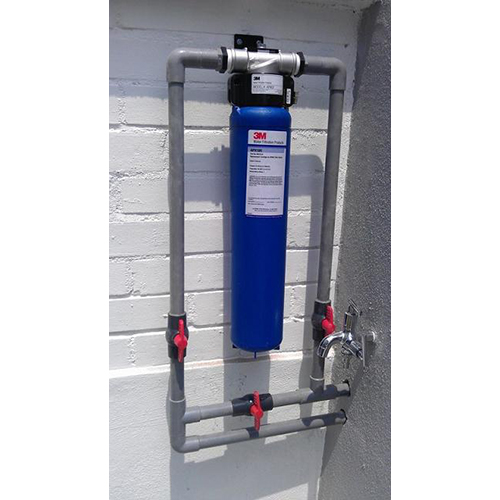 3M™ Whole House Filtration AP902
3M Whole House Water Filter System AP902 is an outdoor water filter that delivers "The Desired First Line of Defense" for your home.
Your water will be well filtered and protected from the very second it enters your home.
Advanced single-stage filtration delivers high output.
Components certified by NSF International with NSF/ANSI Standard 42*.
Fully enclosed filter media – No spill, no mess.
Inclusive of installation fittings – Trouble-free installation.
Sanitary Quick Change (SQC) design – Easy cartridge change-out.
304 stainless steel.
Die-cast zinc locking latch
In stock
Free shipping on orders over RM500!
100% Genuine with Full Warranty
Secure Payments
Specifications
Inlet / Outlet Size: 1″ (2.54 cm) NPT
Overall weight: Dry – 7 lbs (3.2 kg), Wet – 15 lbs (6.8kg)
Capacity (metric): 378,541 l
Fitting Type: Female NPT
Flow Rate (metric): 75.7 Litre per minute
Inlet Outlet Size: 1″ NPT
Maximum Operating Temperature (Celsius): 37.8 ℃
Micron Rating: 5 μm
Net Weight (Metric): 3.2 kg
Number of Cartridges: 1
Pressure Range (metric): 172 – 862 kPa
Reduction Claims: Sediment, Particulate
Replacement Interval: Up to 12 months
Temperature Range (Celsius): 4.4 – 37.8°C
Replacement Cartridge: 3M AP910-R
Main Features & Benefits
Whole house sediment & dirt filtration: Removes visible and invisible dust and sediment particles as small as 5 microns from your water.
Protects fixtures & fittings: With dirt and sediments filtered, the issues or clogging and discolouration of your fixtures and tiles can be eliminated.
Advanced single-stage filtration delivers high output: Enjoy purified water conveniently, without any complexity.
Components certified by NSF International with NSF/ANSI Standard 42: Rest assured of the utmost safety, as it meets rigorous international requirements.
Fully enclosed filter media ensure no spillage and mess: Clean and hassle-free filtration process.
Sanitary Quick Change (SQC): Ensures easy maintenance and significant long-term cost savings with self-maintenance
304 stainless steel head and die-cast zinc locking latch: Resistant to rust and degradation even when exposed to water for long periods of time, preserving the integrity of the system. Die-cast zinc locking latch ensures that the filtration process remains uninterrupted and prevents potential water wastage.
10-year limited system warranty: Lasting and reliable filtration solution with easy access to assistance, ensuring peace of mind throughout its usage.
Prioritise Your Health and Home: The Importance of Outdoor Water Filtration
1. Savour Better Taste: Elevate the taste of your food and beverages with purified water, eliminating the need for expensive bottled alternatives.
2. Protect Plumbing Fixtures: Safeguard your valuable plumbing fixtures from scale build-up, ensuring optimal water flow and pressure, and reducing maintenance costs.
3. Revitalize Skin and Hair: Embrace softer and smoother skin and hair, as filtered water reduces dryness, enhancing your overall well-being.
4. Cut Cleaning Efforts: Bid farewell to soap scum and residue on showers, tubs, and sinks, saving up to 70% of cleaning time and costs.
5. Maximise Water Efficiency: Embrace up to 30% water efficiency by reducing scale build-up in laundry, plumbing, and appliances, leading to cost savings.
6. Save on Soap and Detergents: Reduce overall soap and detergent usage, saving money while maintaining pristine cleanliness.
7. Sparkling Clean Results: Say goodbye to spots, streaks, and soap scum on dishes, glassware, silverware, fixtures, tubs, and shower enclosures, elevating your living spaces.
Upgrade your water quality today and experience the transformation in taste, savings, and cleanliness with filtered water, making everyday moments extraordinary.
Universal Necessity: The Vital Role of Outdoor Water Filters for Every Household
What are the problems with non-filtered water?
Non-filtered water can contain a range of contaminants, including bacteria, viruses, chemicals, heavy metals, sediment, and more, which can pose health risks and affect the water's taste and quality.
Bacteria and viruses in untreated water can cause waterborne diseases, leading to gastrointestinal issues, nausea, vomiting, and in severe cases, life-threatening illnesses.
Additionally, chemicals like chlorine, pesticides, and industrial pollutants found in non-filtered water may have adverse effects on health, causing respiratory problems, skin irritation, and long-term health issues.
What are the risks of heavy metals and sediment?
Heavy metals like lead, mercury, and arsenic, which, when ingested over time, can lead to neurological, developmental, and other health problems.
Sediment and particles in water can cause digestive discomfort and, when left untreated, may accumulate in the body, affecting organ functions and overall well-being.
Everyone in my family is young and healthy. Do I still need to spend money on water filters?
Absolutely! While your family's health may seem robust, it is essential to consider the specific vulnerabilities of certain members.
Children, pregnant women, and individuals with weakened immune systems are particularly susceptible to waterborne contaminants. Even if the water appears clear and odourless, it could still contain invisible impurities that pose potential health risks to these vulnerable groups.
A water filter acts as a vital preventive measure, ensuring that all these hidden contaminants are efficiently removed, safeguarding their well-being. Investing in a reliable water filter not only enhances the taste and quality of your water but also provides the reassurance that you are proactively protecting your loved ones from potential health hazards.
How does filtered water taste compared to tap water? Will it impact the flavour of my cooking and beverages?
Filtered water tastes fresh, pure, and free from any weird or artificial flavours. Unlike tap water, which may sometimes have chlorine or other impurities affecting its taste, filtered water provides a clean and natural flavour that enhances your cooking and beverages.
With impurities like chlorine, bacteria, and heavy metals removed, filtered water allows the authentic flavours of your ingredients to shine in your cooking.
Additionally, your beverages, whether it's a refreshing glass of water, tea, coffee, or any other beverage, will taste cleaner and more enjoyable in the absence of any unwanted aftertaste.
Key Considerations for Choosing a Reliable Outdoor Water Filter
Let's delve into these key considerations that will guide you in selecting the ideal outdoor water filter to provide you with clean, safe, and great-tasting water for your everyday needs.
Filtration Performance: Evaluate the system's capability to effectively remove contaminants like bacteria, viruses, chlorine, heavy metals, sediment, and other impurities.
Outdoor water filters can vary in their filtration performance, depending on the technology they employ. For instance, activated carbon filters are effective at removing chlorine, volatile organic compounds (VOCs), and bad tastes and odours.
On the other hand, reverse osmosis filters use a semipermeable membrane to eliminate contaminants like bacteria, viruses, heavy metals, and dissolved solids, providing a more thorough and comprehensive purification process.
Water Flow Rate: Consider the flow rate of the system to ensure it meets your household's water usage demands without compromising filtration efficiency.
Some filters offer high flow rates, ensuring an ample supply of filtered water for larger households or high water usage needs.
Other filters may have lower flow rates, suitable for smaller households or where water usage demands are not as high, but they may provide a more thorough filtration process.
Filter Lifespan: Check the filter's lifespan and replacement frequency to determine long-term maintenance costs and convenience. The filter lifespan of a water filter refers to how long the filter can effectively remove contaminants before it needs replacement.
Different water filters have varying lifespans, ranging from a few months to several years, depending on the filter type, water quality, and usage frequency.
Some filters come with indicators or alerts to remind users when it's time to replace the filter, ensuring consistent performance and peace of mind in maintaining the filter's effectiveness over time.
NSF Certification: The NSF Certification of a water filter is of utmost importance as it assures the filter's safety and performance. When a filter is NSF certified, it means that it has undergone rigorous testing and meets the standards set by NSF International for contaminant reduction and structural integrity.
Choosing an NSF-certified water filter ensures that you are investing in a product that has been thoroughly evaluated and verified to deliver effective filtration, providing you with clean, safe, and reliable water for your household's needs.
Filter Maintenance: Filter maintenance is a crucial aspect of water filters, especially for those leading busy lifestyles. Opting for a water filter with easy maintenance, such as a Sanitary Quick Change (SQC) design, allows for hassle-free cartridge change-out in less than 10 seconds, making it convenient to replace filters without the need to wait for a technician.
With most households relying on filtered water daily, the ease of maintenance ensures that the system remains efficient, providing clean and safe water whenever needed, saving time and ensuring uninterrupted access to purified water for your daily needs.
Only logged in customers who have purchased this product may leave a review.
good staff..detail info ... good product..
The sales is very helpful and provide advice during installation. Looks clean and neat compare to normal socket
Indeed the water taste pleasant !
Very responsive and helpful seller We bought Smeg cooker + hood. Got plenty of freebies. All comes under guaranteed warranty. Happy with our purchase
Unique design with combination of new technology and good performance, just what I m looking for.
Jennifer Aileen
2023-03-03
The Rinnai hood and hob look sleek and functional. After sale service is also good.
Khor Ting Loong
2023-03-02
Good service and prompt follow up from the salesperson, got complimentary gift as well.
The Kitchen Hood is a high-quality, durable and stylish kitchen hood that will help the kitchen clean and smoke-free.
I'm very satisfied with the quality of the product. A hood without any consumable part saves a lot of hassle. The suction is also very powerful. Although most of the hood nowadays comes with touch sensors, the old-school mechanical switch design is still my favorite somehow, which gave me a practical feeling when using it.