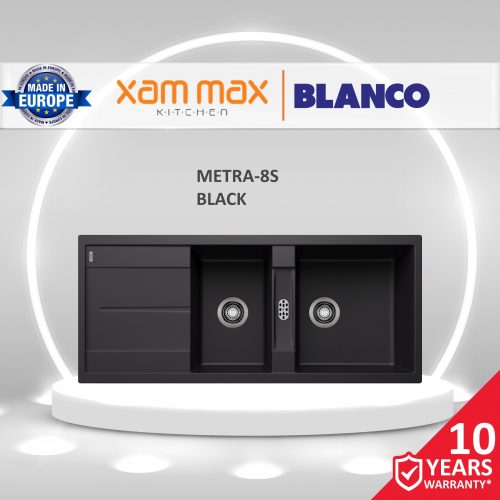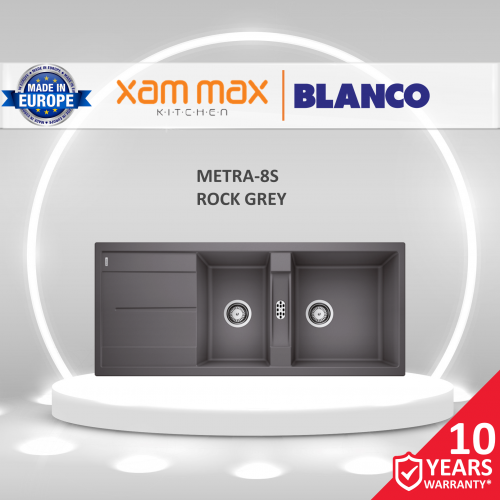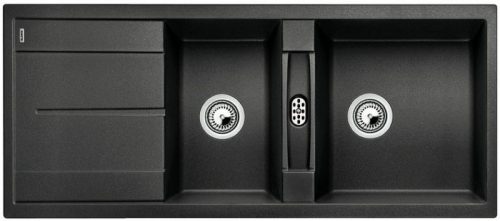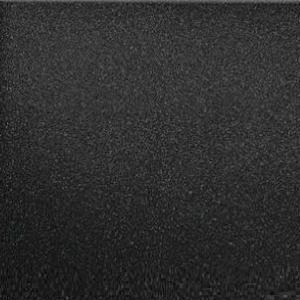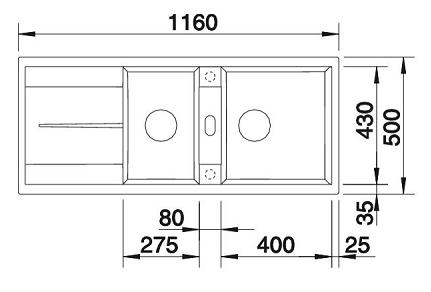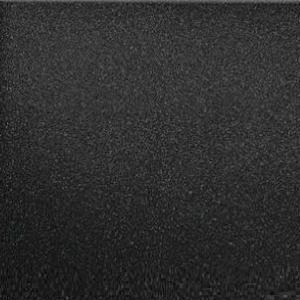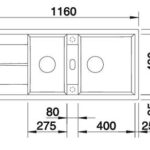 Blanco Drainer Sink Metra 8S
Free shipping on orders over RM500!
100% Genuine with Full Warranty
Secure Payments
BLANCOMETRA 8S
Clean lines maximum comfort
Young, straight-lined design
Attractive line of sinks in the medium price category
Particularly spacious bowls provide an unsurpassed amount of room
The additional bowl provides a high degree of comfort
Aesthetic low-profile rim design
Available in all SILGRANIT™ colours
Can be installed either way round and also as undermount sink
SILGRANIT SINKS – The Precious Stone In The Kitchen
BLANCO sinks made of SILGRANIT stand out thanks to the elegance of the beautiful colours and attractive designs.
SILGRANIT consists of 80% granite, which makes it ideal for daily life in the kitchen.
The stony-silky surface and very finely pored, closed surface create a soft stone-like character that is wonderful to the touch.
Thanks to the excellent material properties, SILGRANIT offers an ease of care and level of resistance that has never been offerd before for coloured composite sinks.
There is a choice of many delightful colours with the identical surface condition in alll, and all specially designed to match the BLANCO taps.
Characteristics of SILGRANIT:
outstanding ease of care
superior durability
natural stone like character
unsurpassed scratch resistance
unsurpassed resistance to breakage
heat-resistance to 280 °C
100% suitable for food use
100% acid resistant
100% non fading
| | | |
| --- | --- | --- |
| Heat Resistant | Scratch Resistant | Stain Resistant |
| Easy to Clean | 100% Suitable for Food Use | Non Fading – even in Direct Sun |
SINK CARE MADE EASY – The easy-to-clean surfaces by BLANCO
SILGRANIT PuraDur II, the granite-based composite material developed by BLANCO, contains water- and dirt-repellent substances that are brought up to the surface every time the sink is cleaned.
This provides permanent protection against limescale and stains for maximum ease of care.
Usually a damp cloth is all that is required for your sink to stay clean and lovely.
More stubborn marks can be removed in moments with a damp sponge.
However, any limescale or dirt deposits that do form can easily be removed using BLANCOACTIV, any standard commercial washing detergent, acetic acid or household cleaning product with active oxygen.
WHAT YOU SHOULD KNOW ABOUT SILGRANIT SINKS ?
What is the material SILGRANIT made of?
SILGRANIT consists of 80% natural granite. The granite is combined with an acrylic matrix, ceramic and colour pigments to give it its unbeatable characteristics.
Is the material heat resistant?
Yes, SILGRANIT is heat resistant to 280 °C
How sensitive is SILGRANIT to scratches and chipping?
SILGRANIT is as hard as stone, which makes it resistant to scratching and cutting. The normal impacts and blows such as those caused by pots and pans and falling objects, e.g. glasses, will not cause it to crack or chip.
Is the material safe for use with food?
Yes, SILGRANIT is perfectly safe for food use and completely hygienic.
Do sinks made of SILGRANIT discolour over time?
No. The material is cast in a single pouring, and so is coloured through completely. Normal household use does not cause any discernible changes in colour. The colour also remains true in direct sunlight.
What can cause the dark marks and lines in the sink?
Because the surface of SILGRANIT is very hard and extremely wear resistant, metal objects (pots, saucepans, skillets etc.) can leave marks where they rub against it. These marks show up dark on a light-coloured sink.
How do I remove these marks?
These marks are easy to remove using a scouring sponge and a little water. For more stubborn marks, we recommend the use of a commercial scouring powder or liquid.
Can discoloration and stains/marks occur on SILGRANIT ?
No. Discoloration and marks/stains are the result of limescale deposits that, when dry, absorb liquids such as coffee, tea or red wine. This then creates the impression of discoloration of the sink surface.
Limescale deposits are easy to remove using a commercial washing detergent, acetic acid or similar, or BLANCOACTIV and water of at least 60°C. After soaking for 3-4 hours (ideally overnight), rinse the sink, then clean with a sponge and wipe dry
Is SILGRANIT patented and certified?
Yes, BLANCO holds seven exclusive patents for SILGRANIT® PuraDur® II, which makes this material the only one of its kind in the world. Further confirmation of its excellent properties comes in the form of 3 neutral quality certificates from the LGA Nüremberg
| | |
| --- | --- |
| Colour | Anthracite, Alu Metallic |
Only logged in customers who have purchased this product may leave a review.
good staff..detail info ... good product..
The sales is very helpful and provide advice during installation. Looks clean and neat compare to normal socket
Indeed the water taste pleasant !
Very responsive and helpful seller We bought Smeg cooker + hood. Got plenty of freebies. All comes under guaranteed warranty. Happy with our purchase
Unique design with combination of new technology and good performance, just what I m looking for.
Jennifer Aileen
2023-03-03
The Rinnai hood and hob look sleek and functional. After sale service is also good.
Khor Ting Loong
2023-03-02
Good service and prompt follow up from the salesperson, got complimentary gift as well.
The Kitchen Hood is a high-quality, durable and stylish kitchen hood that will help the kitchen clean and smoke-free.
I'm very satisfied with the quality of the product. A hood without any consumable part saves a lot of hassle. The suction is also very powerful. Although most of the hood nowadays comes with touch sensors, the old-school mechanical switch design is still my favorite somehow, which gave me a practical feeling when using it.