-7%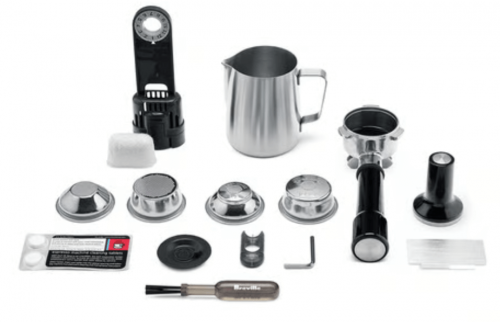 Breville The Dual Boiler Coffee Machine BES920
Free shipping on orders over RM500!
100% Genuine with Full Warranty
Secure Payments
Warranty Duration: 12 Months
Coffee Machine Type: Super-Automatic Espresso Machine
Coffee Machine Features: Coffee Grinder, Milk System, Programmable, Smart Control, Timer
Coffee Machine Capacity: 12 Cups & Above
Input Voltage: 240V
Power Consumption: 2200W
Country of Origin: Australia
In stock
The barista's choice for home espresso.
At the heart of this machine is a dual boiler heating system. The boiler, for the espresso shot, is PID temperature controlled, while a separate steam boiler offers instant and powerful steam on demand. So you can extract your shot at the right temperature, delivering optimal flavor, while simultaneously steaming your milk.
Learn more about third wave specialty coffee.
Specifications:
– Dual Stainless Steel Boilers
– PID Digital Temperature Control
– Over Pressure Valve (OPV)
– Low Pressure Pre-infusion
– 2200W, 240V
– Italian 15bar Pump
– De-scalable
– Adjustable Steam Boiler Temperature
– +/-1degC Temperature Stability
Product DNA
Experience third-wave specialty coffee at home, made possible by the 4 keys formula
Our espresso machines are designed to use the right dose of freshly ground beans, ensure precise temperature control, optimal water pressure and create true microfoam milk essential for latte art. You're only a touch away from getting the 4 keys formula used by professional cafe machines.
The Dual Boiler heating system delivers simultaneous extraction & steam and a heated group head
The stainless steel boilers and heated group head are controlled with PID temperature control to bring water to the precise temperature to extract maximum flavor potential, shot after shot.
Professional 58 mm stainless steel portafilter holds a 22g dose with Dual & Single wall filter included
Full bodied coffee with rich and complex flavors is created using the ideal dose of 22g of freshly ground beans delivered by a professional style 58mm stainless steel portafilter.
Low pressure pre-infusion followed by 9 bar extraction
An opulent, creamy and caramel colored espresso starts with low pressure pre-infusions, followed by a high pressure (9 bar) extraction process delivered via our 15 bar Italian pump.
Powerful 266°F steam for fast silky microfoam
Enjoy silky, velvety microfoam milk created with powerful steam pressure.
Get your perfect extraction with volumetric or timed shot control
Choose between 1 & 2 shot, or manual control over how much espresso ends up in your cup for the perfect shot every time.
Intuitive LCD screen & Pressure gauge for precise control
Displays all the information you need to deliver the perfect espresso extraction.