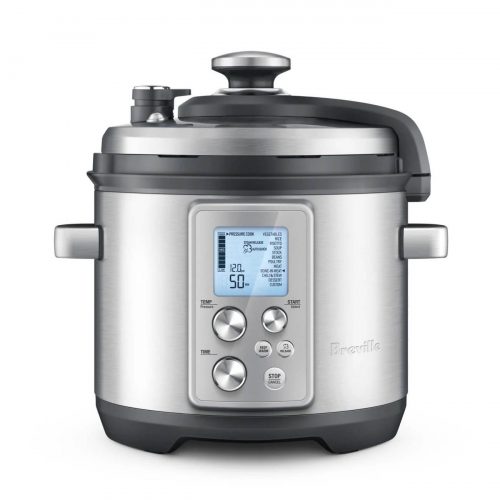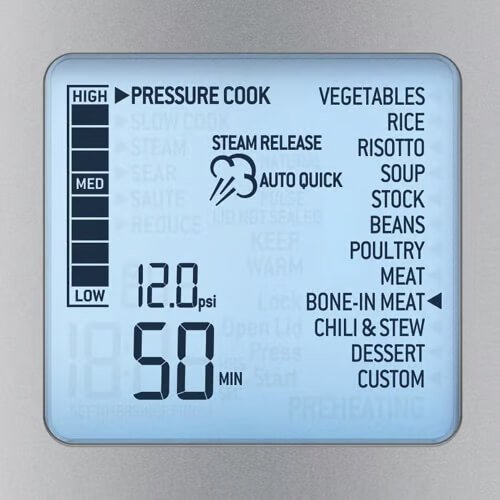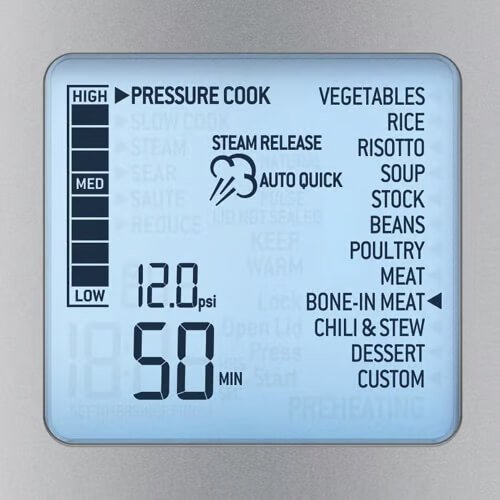 Breville The Fast Slow Pro Multi Cooker BPR700
Warranty Duration: 12 months
Capacity: 6L
Material: Stainless Steel
Input Voltage: 240V
Power Consumption: 1100W
Country of Origin: Australia
In stock
Free shipping on orders over RM500!
100% Genuine with Full Warranty
Secure Payments
3 way safety system steam release.
Some foods are tender with time. Others are perfected under pressure. The Fast Slow Pro™ automatically adjusts time, temperature and pressure between fast and slow cooking modes to coax maximum flavor and texture. This intuitive Breville multicooker is perfect for those looking for fast cooker, slow cooker, pressure cooker, and steam cooker in one easy to use kitchen tool.
Download the recipe e-book.
Specifications:
Colour: Silver
Capacity: 6 Litres
Construction Materials: Brushed Stainless Steel
Cooking Bowl Material: Ceramic Coated and Stainless Steel
Product Dimension: 32.3 (L) x 24.8 (W) x 34.3 (H) cm
Box Dimension: 36 (L) x 36.5 (W) x 40 (H) cm
Gross Weight: 8.2kg
Net Weight: 6.3kg
Voltage: 240V
Power: 1100W
Package:
1 x Slow Cooker
1 x Stainless Steamer Basket
1 x Stainless Rack
1 x Recipe Book with 41 Recipes
1 x User Manual
Product DNA: 
Multi function cooking

One press functionality employs dual sensors at the top and bottom of the 6L bowl to monitor and accurately control the temperature and pressure. 11 pressure cook settings and slow cook settings from high to low. Reduce, sauté, sear to retain and intesify flavors, slow cook, pressure cook steam to lock in nutrients or keep warm.

Auto steam release setting

We eliminated the pressure from pressure cooking with this auto feature that adjusts to different foods to eliminate overcooking and releases steam hands-free to keep your mitts out of harm's way. Automatically sets the correct release method of Quick, Pulse or Natural for the best results.

Triple safe lid construction

Stainless steel construction with 3-way safety system. Hinged and removable lid that is dishwasher safe and easy fitting silicone seal for hassle free cleaning & assembly.

Easy cleaning

Remove the lid and pop in the dishwasher for easy cleaning. The cooking bowl with PTFE and PFOA free ceramic coating doubles as a serving bowl. So sit back and digest a bit before getting up. Wrap around moat catches spills for a mess free clean up.

LCD display

Full feedback LCD display tells you whats going on inside the pot with a pressure indicator, temperature and countdown timer and steam release indicator. 8 pressure levels range from 1.5 psi to 12 psi.
​
good staff..detail info ... good product..
The sales is very helpful and provide advice during installation. Looks clean and neat compare to normal socket
Indeed the water taste pleasant !
Very responsive and helpful seller We bought Smeg cooker + hood. Got plenty of freebies. All comes under guaranteed warranty. Happy with our purchase
Unique design with combination of new technology and good performance, just what I m looking for.
Jennifer Aileen
2023-03-03
The Rinnai hood and hob look sleek and functional. After sale service is also good.
Khor Ting Loong
2023-03-02
Good service and prompt follow up from the salesperson, got complimentary gift as well.
The Kitchen Hood is a high-quality, durable and stylish kitchen hood that will help the kitchen clean and smoke-free.
I'm very satisfied with the quality of the product. A hood without any consumable part saves a lot of hassle. The suction is also very powerful. Although most of the hood nowadays comes with touch sensors, the old-school mechanical switch design is still my favorite somehow, which gave me a practical feeling when using it.