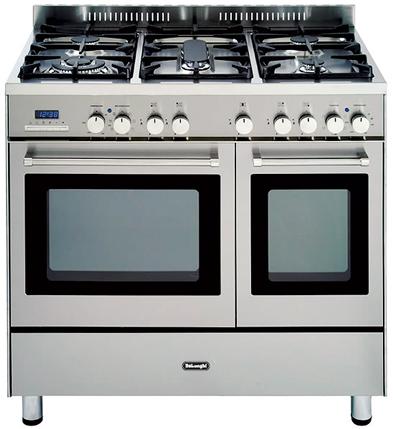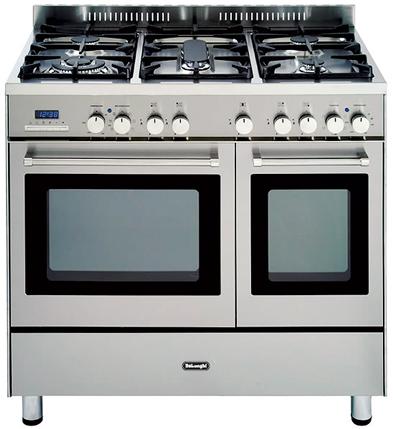 Delonghi Professional Cooker DMX-9623
Out of stock
Free shipping on orders over RM500!
100% Genuine with Full Warranty
Secure Payments
OVEN
7 Cooking Functions
Come with tray & shelf
Timer
Electronic programmer
Left oven capacity: 68 litres (size: 600mm x 600mm)
Right oven capacity: 39 litres (size: 600mm x 300mm)
Dishwarmer compartment
Cathalytic side panels (left oven)
With rotisserie equipment
With telescopic rack holders (left oven)
HOB
5 burners

1 x Auxiliary 1kW
2 x Semi-rapid 1.75kW
1 x Triple-ring 3.50kW
Fish-burner 2.95kW

Removable glass lid
Technical Data
Total electric rating (W): 4500
Total gas input (kW): 10.95
Dimension: W900 x D600 x H850mm
Why Should I Need To Own A Delonghi Professional Gas Cooker?
Love entertaining but hate the hassle and time spent on cooking? Now you can cook like a chef and wow your guest in less time than before with Delonghi professional gas cookers. Delonghi DMX-9623 is equipped with 5 gas burners, and a giant over perfect for all your cooking, grilling, roasting and baking needs.
The main triple ring burner comes with a powerful flame at 3.5kW, an ideal companion for Asian style cooking.
Roasting and baking has never been easier and more hassle free. Now you can enjoy the new experiences of roasting up 2 chickens simultaneously and even bake a 2kg birthday cake in a jiffy.
How Durable Are Delonghi Professional Gas Cooker?
Unleash the secrets of a master chef today with Delonghi DMX-9623 and experience the differences. Delonghi DMX-9623 is built to offer consistent performance and last for generations. Each Delonghi professional gas cooker is made with high quality performance stainless steel and is fully important from Italy.
Delonghi DMX-9623 is equipped with top quality burners with a built-in safety feature to automatically cut-off the gas supply when the burning flame dies, ensuring the safety in your kitchen at al times. Delonghi DMX-9623 also incorporate heavy duty cast iron wok stands for long lasting durability.
The electricity oven operates at 3300 watts and grill elements at 2200 watts that speeds up your cooking time up to 35%. All Delonghi professional gas cookers are covered with 1 year warranty for all defects & service of parts.
Functions of The Delonghi Gas Cookers
1) Smooth practical cooktop of best quality stainless steel. Heavy-duty inalterable burners and pan-supports. Maximum safety combined with the highest efficiency and comfort of use. Functional fascia panel with firm and clear controls. Easy ignition of the burners.
2) Large varity of burners for fast boiling, simmering or slow cooking. Adapter / stand for work. Cast-iron griddle supplied with on cookmaster models. Space and convenience at your disposal.
3) Side-by-side dual fuel or electric ovens allowing the maximum versatility of use to suit any cooking style or to perform difficult recipes.
4) Perfect harmony and balance of materials and design. Timeless beauty unassailable by time.
Only logged in customers who have purchased this product may leave a review.
good staff..detail info ... good product..
The sales is very helpful and provide advice during installation. Looks clean and neat compare to normal socket
Indeed the water taste pleasant !
Very responsive and helpful seller We bought Smeg cooker + hood. Got plenty of freebies. All comes under guaranteed warranty. Happy with our purchase
Unique design with combination of new technology and good performance, just what I m looking for.
Jennifer Aileen
2023-03-03
The Rinnai hood and hob look sleek and functional. After sale service is also good.
Khor Ting Loong
2023-03-02
Good service and prompt follow up from the salesperson, got complimentary gift as well.
The Kitchen Hood is a high-quality, durable and stylish kitchen hood that will help the kitchen clean and smoke-free.
I'm very satisfied with the quality of the product. A hood without any consumable part saves a lot of hassle. The suction is also very powerful. Although most of the hood nowadays comes with touch sensors, the old-school mechanical switch design is still my favorite somehow, which gave me a practical feeling when using it.