-10%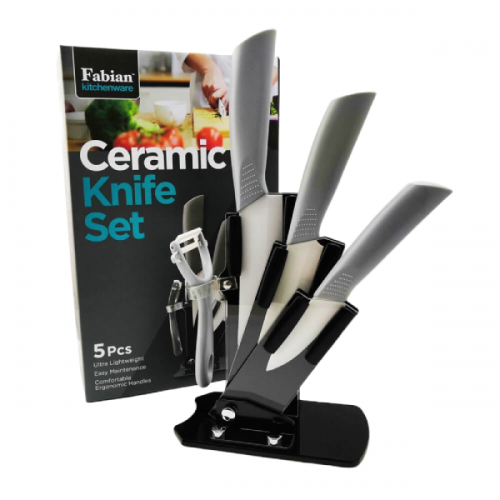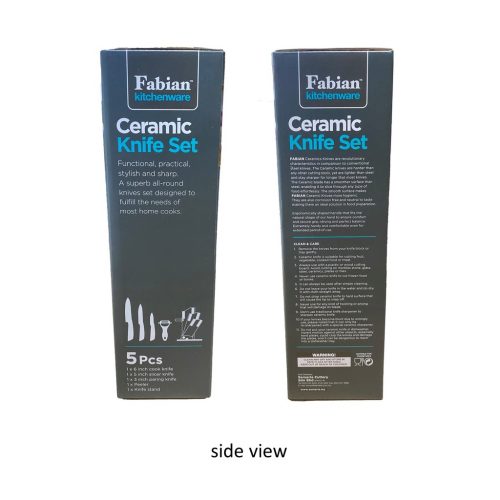 Fabian Ceramic Knife Set
Free shipping on orders over RM500!
100% Genuine with Full Warranty
Secure Payments
Acrylic Stand x 1
Cook Knife 6″ x 1
Slicer Knife 5″ x 1
Paring Knife 3″ x 1
Peeler x 1
In stock
Product Information:
Smooth and sharp ceramic blade.
Lighter than stainless steel knife.
Ergonomically shaped.
PP handle that fits our shape of the hand.
Ensuring secure grip and comfort.
Extremely handy and comfortable even for usage over an extended period of time.
Care Instructions:
Do not drop the ceramic knife on a hard surface as it will cause the tip to snap off.
Never use a ceramic knife to cut frozen food or bones.
Rinse and handwash immediately with a soft sponge and gentle detergent after use.
Wipe dry before storing. Store in a safe dry place.
Not dishwasher safe.
Gift Box Dimension: 29.50 x 18.30 x 8.80 cm (0.646kg)
Only logged in customers who have purchased this product may leave a review.