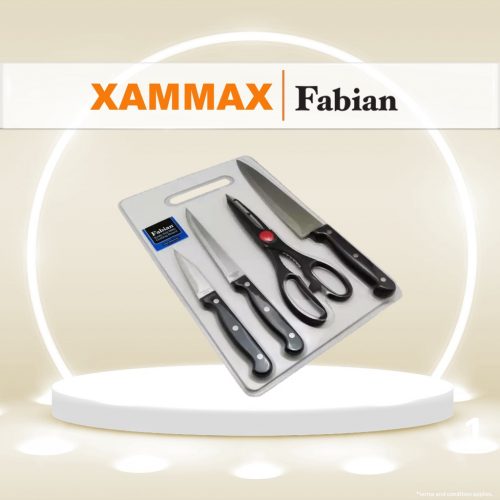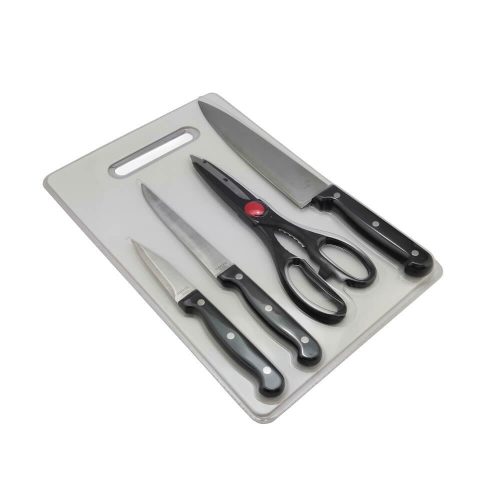 Fabian Stainless Steel Knife Set
Cook Knife 7″ x 1
Slicer Knife 5″ x 1
Paring Knife 3″ x 1
Kitchen Scissors x 1
PP Cutting Board x 1
In stock
Free shipping on orders over RM500!
100% Genuine with Full Warranty
Secure Payments
Product Information:
Ergonomically shaped.
Polypropylene (PP) handle that fits our shape of the hand.
Ensuring secure grip and comfort.
Extremely handy and comfortable even for usage over an extended period of time.
Care Instructions:
Rinse and handwash immediately with a soft sponge and gentle detergent after use.
Wipe dry before storing. Store in a safe dry place.
Avoid immersing in water, especially with high salt concentrations.
Prolonged contact with acidic and salty substances may cause a corrosive effect, particularly on the blade.
Only logged in customers who have purchased this product may leave a review.
good staff..detail info ... good product..
The sales is very helpful and provide advice during installation. Looks clean and neat compare to normal socket
Indeed the water taste pleasant !
Very responsive and helpful seller We bought Smeg cooker + hood. Got plenty of freebies. All comes under guaranteed warranty. Happy with our purchase
Unique design with combination of new technology and good performance, just what I m looking for.
Jennifer Aileen
2023-03-03
The Rinnai hood and hob look sleek and functional. After sale service is also good.
Khor Ting Loong
2023-03-02
Good service and prompt follow up from the salesperson, got complimentary gift as well.
The Kitchen Hood is a high-quality, durable and stylish kitchen hood that will help the kitchen clean and smoke-free.
I'm very satisfied with the quality of the product. A hood without any consumable part saves a lot of hassle. The suction is also very powerful. Although most of the hood nowadays comes with touch sensors, the old-school mechanical switch design is still my favorite somehow, which gave me a practical feeling when using it.