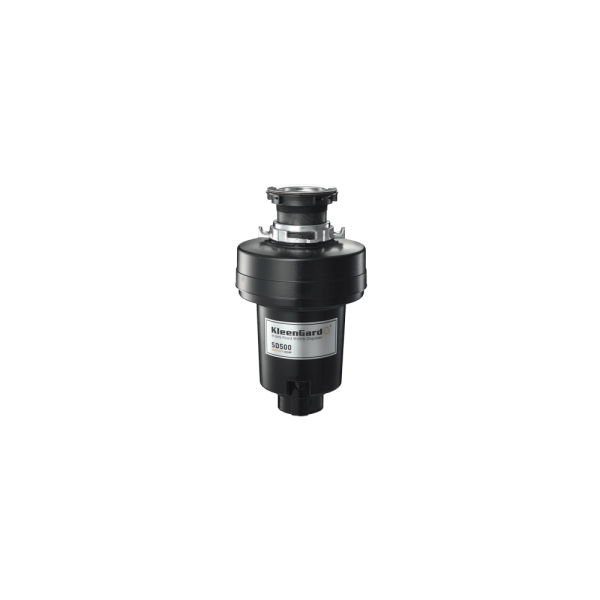 Kleengard Waste Disposer SD 500
Free shipping on orders over RM500!
100% Genuine with Full Warranty
Secure Payments
CONCERNS ON FOOD WASTES
In many major cities of the world there exists a municipal garbage disposal problem. One of the most serious components of this problem is wet food waste from the kitchens which gives rise to public health and nuisance problem.
Wet food waste accumulation is a breeding ground for rodents, insects and disease.
Whether it is in your garbage bin, in your street or in your home, the accumulation of food waste from preparation and cleaning up of meals attracts insects and rodents which can present a serious health hazard to your family, not to mention the bad and nauseating odours.
Torn and leaking garbage bags, nauseating stench, pest infestations, stray animals scavenging for food in your uncollected garbage bins, are still common in our modern city.
Solution
Now there is a solution to this problem: Kleengard Food Waste Disposers fit conveniently under your sink. It grinds food waste into small particles that are then flushed down the sewerage drain. By significantly reducing garbage generation and the disposal of non-biodegrable plastic bags into our landfills, you are also doing your part to help conserver Mother Earth. Kleengard disposers are economical to operate and in fact, it is among the least expensive kitchen appliances.
KleenGard Can Dispose Most Food Waste
Chicken Bones
Fish Bones
Egg Shells
Prawn Shells
Meat
Banana Peels
Noodle & Rice
Vegetables
Lemon Rinds
Grapefruit Halves
Coffee Grounds
Nut Shells
Fruit Pits
Corn Cobs
WHY KLEENGARD?

EZ Mount System  
Fast and easy mount system provides a hassle-free installation.
Corrosion Proof  
Lifetime warranty against failure due to corrosion.
Removable Splash Guard
Ideal for easy cleaning and replacement.
Permanent Magnet Motors
High torque motor that produces morepower per than any other disposer.
Compact and Lightweight
Smaller and lighter than most conventional AC motor disposers by using space – age high tech components
USA Technology
Latest design and precision engineering from USA.
FEATURES – Unique with Outstanding Benefits
Bio Shield
Antimicrobial Disposers are treated with an antimicrobial agent molded inside providing protection against odour causing bacteria growth.
Torque Master
The Torque Master grinding system is a combination of computer designed and balanced components at 4000rpm, working in unison to provide superior torque grind speed and long system life.
Silver Geard
The magnetic Silver Guard captures most metal objects from falling into the disposer chambe. This protective feature helps prevent damage to valuable cutlery. It also helps prevent damage to the disposer as well as expensive repairs caused by metal objects falling into the disposer.
INSTALLATION REQUIREMENTS
Type of Sinks
Granite
Solid Surface
Stainless Steel
Only logged in customers who have purchased this product may leave a review.
good staff..detail info ... good product..
The sales is very helpful and provide advice during installation. Looks clean and neat compare to normal socket
Indeed the water taste pleasant !
Very responsive and helpful seller We bought Smeg cooker + hood. Got plenty of freebies. All comes under guaranteed warranty. Happy with our purchase
Unique design with combination of new technology and good performance, just what I m looking for.
Jennifer Aileen
2023-03-03
The Rinnai hood and hob look sleek and functional. After sale service is also good.
Khor Ting Loong
2023-03-02
Good service and prompt follow up from the salesperson, got complimentary gift as well.
The Kitchen Hood is a high-quality, durable and stylish kitchen hood that will help the kitchen clean and smoke-free.
I'm very satisfied with the quality of the product. A hood without any consumable part saves a lot of hassle. The suction is also very powerful. Although most of the hood nowadays comes with touch sensors, the old-school mechanical switch design is still my favorite somehow, which gave me a practical feeling when using it.