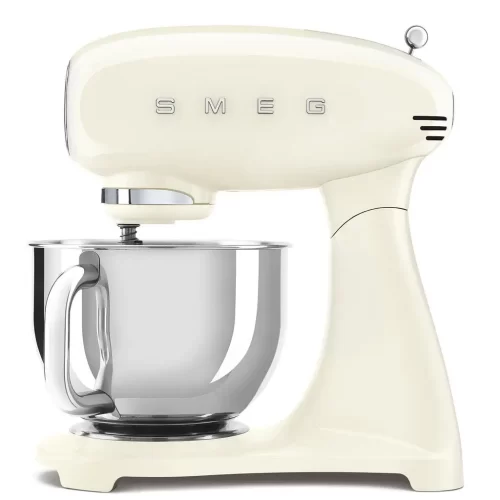 Smeg Stand Mixer SMF02 – Cream
RM4,095.00
Free shipping on orders over RM500!
100% Genuine with Full Warranty
Secure Payments
Product Details:
Frontal cover color: Silver
Frontal cover material: Plastic
Body material: Die-cast aluminum
Base color: Silver
Base material: Zinc-alloy
Bowl material: Stainless steel
Type of logo: Applied
Cable: Grey color
2 years general warranty
In stock
50's Retro Style
Color and retro lines for style icons: appliances that embody the glamour and rounded forms of the 1950s. Smeg – 50's Retro Style products, a series of refrigerators, kettles, toasters, stand mixers, and blenders, have become recognized as cult objects. They are famous worldwide in enliven any environment and creating a conversation piece.
Specifications:
Action: Planetarium
Speed control: Electronic
Speeds: 10
Smooth start function: Yes
Motor type: Direct motion
Motor power: 800 W
Safety lock when the head is tilted up: Yes
Motor overload protection: Yes
Accessory port for optional: Frontal
Head tilts up mode: Button
Bowl capacity: 4,8 L
Bowl handle: Yes
Anti-slip feet: Yes
Integrated cord: Yes
Capacity:
Max egg whites: 12
Min. egg whites: 3
Max pre-prepared cake batters: 2.0 Kg
Bread/pizza dough: 1.8 kg total dough (max 1.2 kg flour)
Whipped cream max: 1lt
Available Colours:
Pink
Pastel Blue
Pastel Green
Red
Black
Cream
White
Only logged in customers who have purchased this product may leave a review.