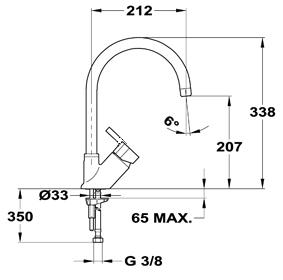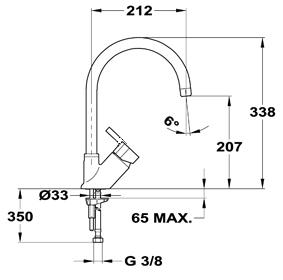 Teka High Spout Sink Mixer ELAN
Out of stock
Free shipping on orders over RM500!
100% Genuine with Full Warranty
Secure Payments
5 Years Warranty
All Teka taps are guaranteed for 5 years against any manufacturing defect. We are an ISO 9001 accredited company, which confirms the quality of the design, production and marketing processes of our taps. For Kitchen & Bathroom Mixers (excluding Cartridge which bears ONE-YEAR warranty).
Cartridges Use Sintered Ceramic Discs Of High Resistance
The ceramic discs have a porous surface that retains the grease longer, helping to achieve smoother, gentler movements and therefore prolonging the life of the taps. The operating gear is insulated from water for continuous lubrication to ensure optimal performance of Teka kitchen taps.
Catridges That Have Stainless Steel Washer
These cartridges act as a bearing to offer smoother, gentler movement and avoid the wear and tear caused by friction. Ceramic slide holders reinforced by Molybdenum improve the soft movement and enhance durability of the cartridges.
Temperature Limiter
The temperature limiter incorporated in the cartridge helps save the energy used to heat the water.
Water Saving
Save water everytime you use the mixer with the adjustable flow limiter incorporated into the cartridge.
Anti-scalding
Forget about scalding caused by water at very high temperatures. The anti-scald valve mixes in cold water with the outgoing hot water to ensure that the water is always at a safe temperature.
Product Description
Cast swivel spout
1/2″ flexible inlet pipes
Only logged in customers who have purchased this product may leave a review.
good staff..detail info ... good product..
The sales is very helpful and provide advice during installation. Looks clean and neat compare to normal socket
Indeed the water taste pleasant !
Very responsive and helpful seller We bought Smeg cooker + hood. Got plenty of freebies. All comes under guaranteed warranty. Happy with our purchase
Unique design with combination of new technology and good performance, just what I m looking for.
Jennifer Aileen
2023-03-03
The Rinnai hood and hob look sleek and functional. After sale service is also good.
Khor Ting Loong
2023-03-02
Good service and prompt follow up from the salesperson, got complimentary gift as well.
The Kitchen Hood is a high-quality, durable and stylish kitchen hood that will help the kitchen clean and smoke-free.
I'm very satisfied with the quality of the product. A hood without any consumable part saves a lot of hassle. The suction is also very powerful. Although most of the hood nowadays comes with touch sensors, the old-school mechanical switch design is still my favorite somehow, which gave me a practical feeling when using it.