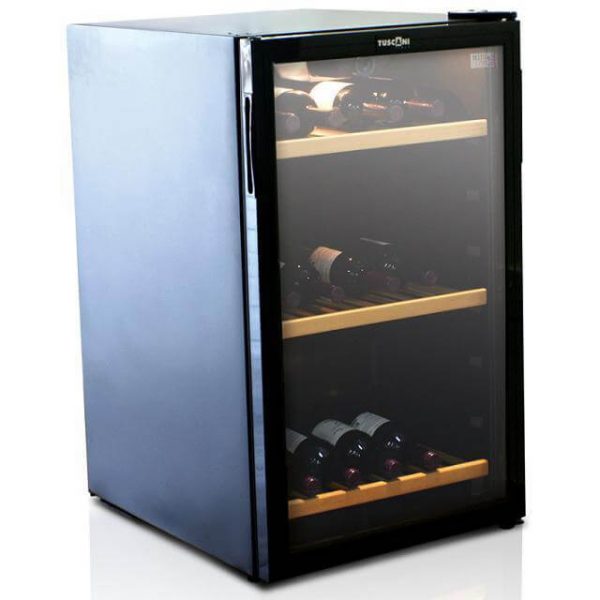 Tuscani Wine Chiller Bellona 38D
Out of stock
Free shipping on orders over RM500!
100% Genuine with Full Warranty
Secure Payments
THE PERFECT 10

Humidity
Bello Vino wine cellars are equipped with a unique climate control system, which is Nano Air-cycle Cooling System that distributes the temperature evenly inside the wine cellar and regulates the humidity level.
Temperature
Bello Vino presents a wide range of wine cellars offering Single, Dual and Multi-Temperature models to meet your cellaring needs for sparking (5-8ºC), white wine (9-12ºC) or red wine (15-18ºC).
Natural Ventilation
In order to prevent mould growth, which generate bad odour and risk deteriorating the corks, Bello Vino wine cellars provide a natural
permanent ventilation, introducing renewed air from the ambience into the cellar through an "air-circulation" effect.
UV Protection
Light and UV rays rapidly destroy your wines by oxidising the tannins.
Bello Vino wine cellars are equipped with a triple glazed UV protection tempered glass door which will safeguard your collection of fine wines.
Vibration And Fluctuations Free
Balance and stable Nano Air-cycle Cooling System compressor, solid beech (wooden) shelves and adjustable front legs are equipped in
the Bello Vino cellars to ensure the cellars are leveled and stable to avoid vibration and fluctuations.
Charcoal Filter
Integrated charcoal filter to absorb unpleasant odour.
Sliding Solid Beech (Wooden) Shelves
Come with a protective varnish and use to reduce vibrations, keep your wine snug and accommagate all types and shapes of bottles. The shelves can be adjusted to ensure maximum storage of wines.
Internal Light Panel
Stylish interior light to enhance visibilty.
Reversible Door Hinge
Simple and conveniently adjustable to left or right door opening.
Easy Operation
Simple digital control panel design for ease of use and ensures temperature is accurately programmed.
ADDITIONAL INFO
Storage
Capacity: 40 bottles
4 Wooden Rack
Equipment & Control
Single temperature zones with digital control
Nano Air-cycle Cooling System with compressor
Interior light
Charcoal filter
Design
Free standing installation
Reversible door hinge
Adjustable legs
Black door frame with magnetic door closure gasket
Triple glazed UV protected tempered glass door
Climate Class: 'T' (Tropicalised)
Technical Data
Electricity Consumption (kWh / 24hr): 0.75
Power Requirement: 220-240V / 50Hz
Humidity (RH) (approx) – 65% (± 10 %)
Only logged in customers who have purchased this product may leave a review.
good staff..detail info ... good product..
The sales is very helpful and provide advice during installation. Looks clean and neat compare to normal socket
Indeed the water taste pleasant !
Very responsive and helpful seller We bought Smeg cooker + hood. Got plenty of freebies. All comes under guaranteed warranty. Happy with our purchase
Unique design with combination of new technology and good performance, just what I m looking for.
Jennifer Aileen
2023-03-03
The Rinnai hood and hob look sleek and functional. After sale service is also good.
Khor Ting Loong
2023-03-02
Good service and prompt follow up from the salesperson, got complimentary gift as well.
The Kitchen Hood is a high-quality, durable and stylish kitchen hood that will help the kitchen clean and smoke-free.
I'm very satisfied with the quality of the product. A hood without any consumable part saves a lot of hassle. The suction is also very powerful. Although most of the hood nowadays comes with touch sensors, the old-school mechanical switch design is still my favorite somehow, which gave me a practical feeling when using it.