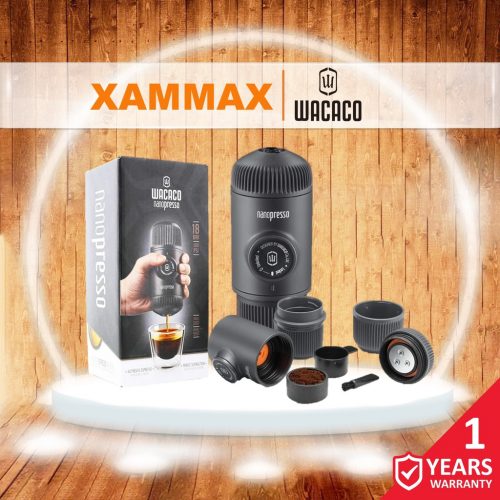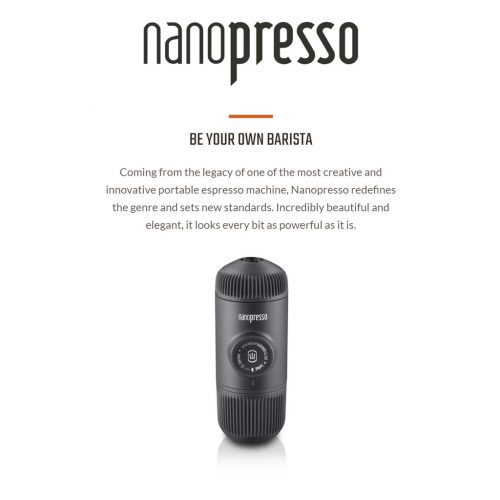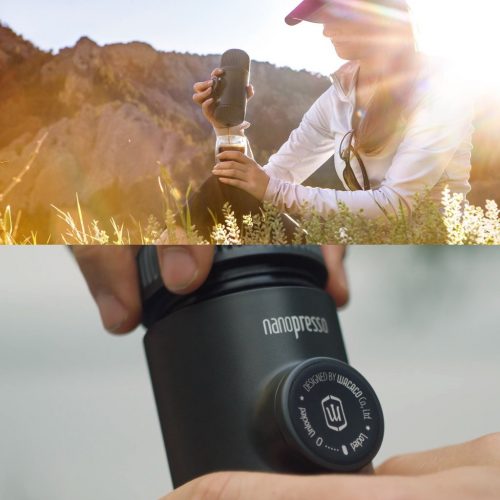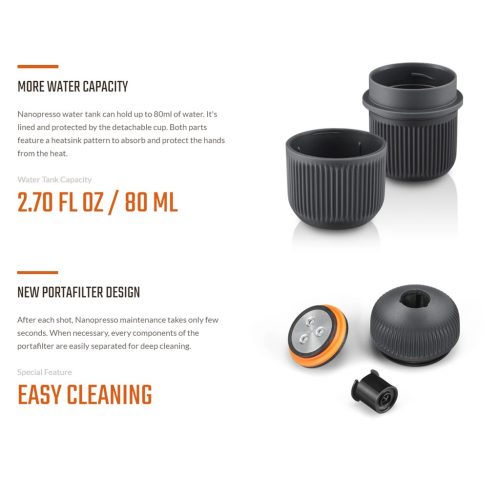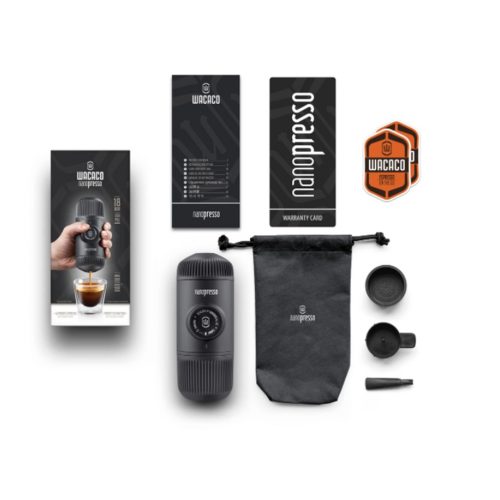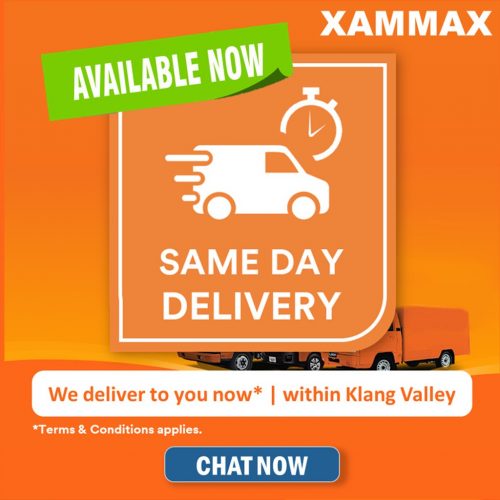 Wacaco – Nanopresso Espresso Portable Coffee Maker / Compact Hand Press Coffee Machine Brewer / Minipresso Series
RM299.00 – RM302.00
Free shipping on orders over RM500!
100% Genuine with Full Warranty
Secure Payments
Product details of Wacaco Nanopresso
Packed with new features and capabilities, which drastically improve the way you prepare your favorite coffee, Nanopresso is one of the best and most versatile espresso machines.
MASSIVE POWER
Built with a newly patented pumping system, capable of reaching a maximum of 18 bars (261 PSI) of stable pressure during extraction for unparalleled coffee quality more than what most home espresso machines can deliver.
EASIER THAN EVER
Works best with finely ground coffee that is tamped hard. It is delightfully easy to operate, with 15% less force to pump compared to previous models (1st gen Minipresso).
EVEN LIGHTER
Extremely light at just 336gram, but still feel solid.
MORE WATER CAPACITY
water tank can hold up to 80ml of water. It's lined and protected by the detachable cup. Both parts feature a heatsink pattern to absorb and protect the hands from the heat.
NEW PORTAFILTER DESIGN
After each shot, maintenance takes only few seconds. When necessary, every components of the portafilter are easily separated for deep cleaning.
FAQ
How good is the extraction?
Customers feedbacks and professional reviews prove this patented portable espresso machines are just amazing with its unbelievable extraction. As a professional machine, to get the most from it, you will have to work harder on the grinding. Once you get it right, you will enjoy the most delicious espresso shot.
Does nanopresso use a pressuried head?
Yes, but it can easily be disconnected. Pressurised head helps to improve consistency and extraction when a less precisely ground coffee is used. It offers to user a simple setup and frees him from the hassles of learning the subtleties of espresso brewing. It can also be used without the pressurised head system, as an authentic espresso machine. In non-pressurised mode, you need to fine-tune the grinding to achieve the best results. Correct tamping also play an important role in the extraction.
Does the pumping require a lot of force?
At 18 bar pressure (261 psi) you will need to press the knob with a force equal to 13 kg (28.66 lbs). To easily apply that force, we recommend to hold with two hands as instructed in our user guide.
Does the pressure drop between pumping?
Absolutely not! Once the pressure has been built up, it remains very stable during the whole extraction process.
Does nanopresso heat up the water?
No! You have to fill the water tank with boiling water.
Dishwasher safe?
No, recommend to wash under running water the scoop, the brush, the cup if used, the portafilter, the filter basket and the area of the mainbody where is the filter basket. Clean the other parts with a humid cloth. After cleaning, let all parts dry separately.
Complied with safety approvals?
It complies with major international safety approvals (FDA, EU, RoHS, LFGB, GB) regarding food contact materials. Plastic materials, in contact with food, used in the manufacturing are listed BPA free.
| | |
| --- | --- |
| Weight | 2 kg |
| Dimensions | 16 × 8 × 7 cm |
| Packaging | Standard, Bubble Wrap |
Only logged in customers who have purchased this product may leave a review.
good staff..detail info ... good product..
The sales is very helpful and provide advice during installation. Looks clean and neat compare to normal socket
Indeed the water taste pleasant !
Very responsive and helpful seller We bought Smeg cooker + hood. Got plenty of freebies. All comes under guaranteed warranty. Happy with our purchase
Unique design with combination of new technology and good performance, just what I m looking for.
Jennifer Aileen
2023-03-03
The Rinnai hood and hob look sleek and functional. After sale service is also good.
Khor Ting Loong
2023-03-02
Good service and prompt follow up from the salesperson, got complimentary gift as well.
The Kitchen Hood is a high-quality, durable and stylish kitchen hood that will help the kitchen clean and smoke-free.
I'm very satisfied with the quality of the product. A hood without any consumable part saves a lot of hassle. The suction is also very powerful. Although most of the hood nowadays comes with touch sensors, the old-school mechanical switch design is still my favorite somehow, which gave me a practical feeling when using it.