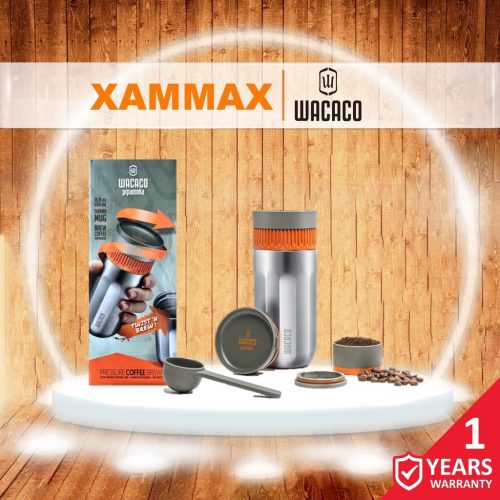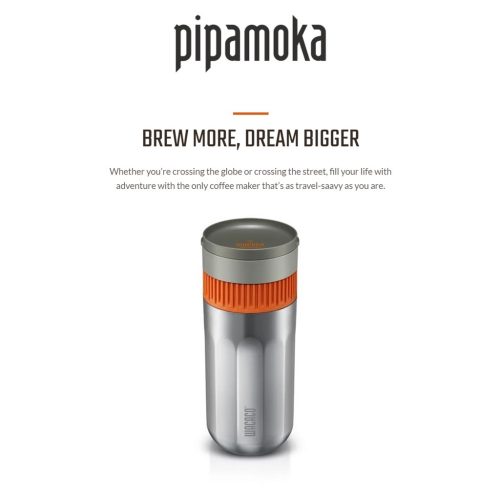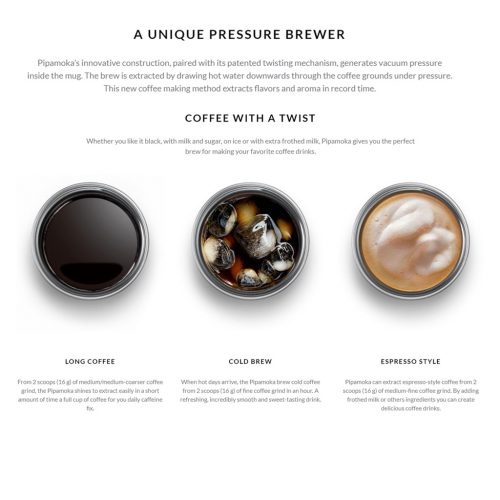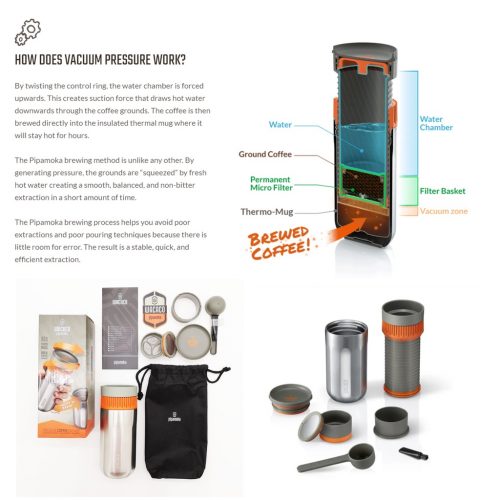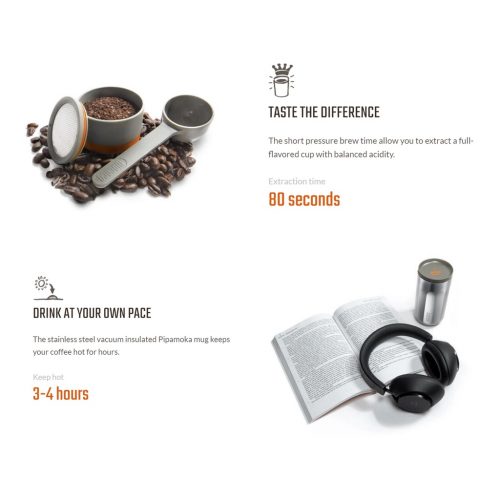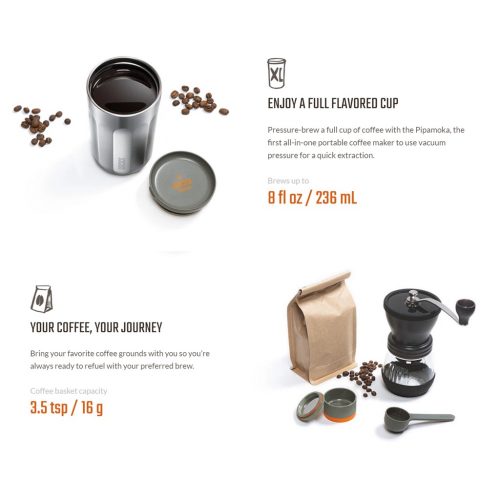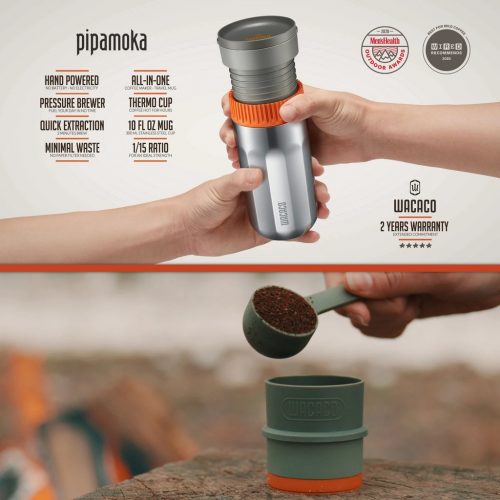 Wacaco – Pipamoka Vacuum Pressure Coffee Brewer On The Go Portable Coffee Maker / Minipresso Picopresso Series
RM209.00 – RM212.00
Free shipping on orders over RM500!
100% Genuine with Full Warranty
Secure Payments
Product details of Wacaco Pipamoka
Featuring:
Brew and drink from a single device with Pipamoka nomadic coffee maker. Simple and sturdy, this pressure brewer makes it easy and quick to fuel your days and enjoy hours of hot, freshly-brewed coffee. Be it during your commutes, work hours or adventures. Designed and engineered by Wacaco, Pipamoka packs every tool you need to prepare and enjoy a perfectly balanced coffee. A new experience distilled right into your cup, anytime, anywhere.
Pipamoka uses a permanent micro-filter mesh at 250μm (no need paper filters so you will save a few bucks and limit your waste) in order to let the precious natural oils present in the ground pass into the cup, contributing to richer flavors. Brew ratio is similar to standard drip or infusion methods, close to 1:15 (1 g of coffee ground for 15 mL of water). We recommend using a medium to medium-coarse grind for optimal brewing performance.
Capable to extract in no time a cup of coffee, Pipamoka brewing technics set it apart from other devices. Its patented construction, paired with its innovative twisting mechanism, generates vacuum pressure inside the mug. This negative pressure generated a suction force that draws hot water downwards through the coffee grounds. The coffee is then brewed directly into the insulated thermal mug where it will stay hot for 3-4 hours. Pipamoka's new coffee-making method makes a clean, full-flavored cup of coffee in about two minutes.
FAQ
How is the extraction and flavor?
Long coffee from the Pipamoka is like filter coffee, known for being smooth, approachable, and yet complex. Like pour over coffee, it's clean, balanced, and rich with flavor.
Does twisting require a lot of force?
Twisting the ring requires a minimal amount of force that anyone can achieve easily by holding the Pipamoka with two hands as instructed in our user guide.
Does the Pipamoka heat up the water?
No. In order to make your coffee, you will have to fill the chamber with boiling water.
Is the Pipamoka dishwasher safe?
No, but cleaning the brewer is quick and easy. We recommend you wash your Pipamoka under running water and wipe with a clean cloth. Then allow all the parts to dry completely before reassembling.
Is the Pipamoka microwave safe?
No. The main part of the brewer (the cup) is made with stainless steel, which is not microwave safe. The ideal way to heat water in a microwave is with a glass container.
Does the Pipamoka meet safety standards?
Pipamoka complies with major international safety approvals (FDA, EU, RoHS, LFGB, GB) regarding food contact materials. Plastic materials, in contact with food, used in the manufacturing of the Pipamoka are listed BPA free.
Package includes:
Pipamoka with 10 fl oz (300mL) isothermal stainless steel mug, funnel, scoop, brush, multi-languages instruction book, warranty card, one sticker and a carrying bag.
#wacaco #coffee
| | |
| --- | --- |
| Weight | 0.5 kg |
| Dimensions | 9 × 9 × 20 cm |
| Packaging | Standard, Bubble Wrap |
Only logged in customers who have purchased this product may leave a review.
good staff..detail info ... good product..
The sales is very helpful and provide advice during installation. Looks clean and neat compare to normal socket
Indeed the water taste pleasant !
Very responsive and helpful seller We bought Smeg cooker + hood. Got plenty of freebies. All comes under guaranteed warranty. Happy with our purchase
Unique design with combination of new technology and good performance, just what I m looking for.
Jennifer Aileen
2023-03-03
The Rinnai hood and hob look sleek and functional. After sale service is also good.
Khor Ting Loong
2023-03-02
Good service and prompt follow up from the salesperson, got complimentary gift as well.
The Kitchen Hood is a high-quality, durable and stylish kitchen hood that will help the kitchen clean and smoke-free.
I'm very satisfied with the quality of the product. A hood without any consumable part saves a lot of hassle. The suction is also very powerful. Although most of the hood nowadays comes with touch sensors, the old-school mechanical switch design is still my favorite somehow, which gave me a practical feeling when using it.