Water Dispenser – Which is the Best in Malaysia? And Why?
Which is the best water dispenser in Malaysia?
Currently, 3M Filtered Water Dispenser HCD-2 is the best water dispenser in Malaysia because it is NSF tested – the highest standard in the industry; The Ultraviolet Technology deactivates viruses and bacteria up to 99.9%; Its patented Sanitary Quick Change (SQC) allows you to easily change the cartridge yourself, and many more!
---
My morning routine starts with boiling water with an electric kettle – to make a cup of coffee or milo, and to reserve some for drinking later in the day.
Sound familiar?
Many Malaysian get their clean drinking water this way until they are able to get a water dispenser.
Whether you are at home or office, having a water dispenser is an easy way to get access to getting clean and safe drinking water. It really saves you time and effort.
Some even have a child lock that offers protection to your little kids' hands.
However, with so many water dispensers on the market, it would be challenging to choose one.
Read on to find out how to choose the best water dispenser for your home or office.
First, What is a Water Dispenser?
A modern water dispenser is similar to a water filtration system which provides you with clean water.
However, a water dispenser can also offer hot and cold water on demand.
This is great for busy people who want to save the hassle of boiling water or making ice.
To give you a quick overview, there are 4 key factors you should look into when buying a water dispenser:
The total cost in the long term.
It space it takes up.
The ability to remove harmful contaminants, bacteria & viruses.
NSF certification.
We will not leave you scratching your head as we will explain each of them below.
---
What Matters When Buying a Water Dispenser in Malaysia?
There are numerous factors to take into account when buying water dispensers in and across Malaysia.
As a general rule of thumb, you should focus on the following characteristics and features:
1) The Total Cost in the Long Term
Buying a water dispenser is similar to buying a printer, you need to consider the cost of its system and the cost of replacement cartridges down the road.
A good water dispenser with NSF certified like 3M Filtered Water Dispenser HCD-2 would cost you around RM3000 including installation. Its cartridge replacement cost is less than RM200.
Depending on the quality of the water sources in your house, and how often you use it, you might want to replace the cartridge 1-2 times a year.
Its cartridge replacement process is also a key factor. Some companies sell you cheap water dispensers but charge you a sky-high cartridge replacement cost (they often name it "maintenance fee").
Some companies practise a more ethical approach which allows their customers to change the cartridge easily on their own.
The model I just mentioned, "3M Filtered Water Dispenser HCD-2" allows cartridge replacement in less than a minute just like this:
Quick Tip:
We recommend that you go for a brand that does not tie you up with a long term maintenance fee. A modern water dispenser should allow you the option to change the cartridge on your own easily without paying for extra maintenance costs.
2) How Much Room Does it Take Up?
The water dispenser you choose to go with has to be the type that fits into your living space.
For example, you do not want to choose a freestanding water dispenser if you live in a small space condo. You would be better off going for a countertop type.
If you're unsure, we highly recommend going with a countertop water dispenser as they offer the flexibility to position on almost every area in your kitchen.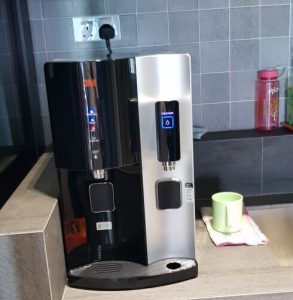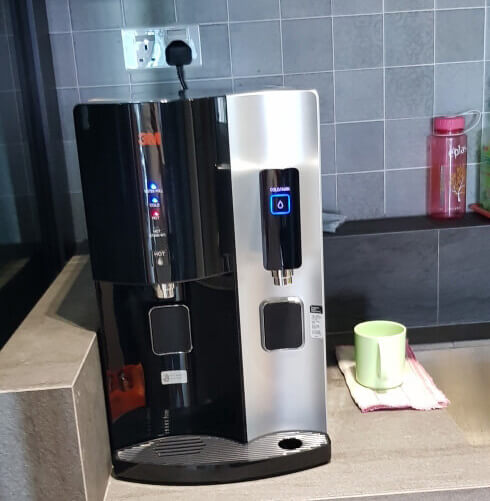 3) Does it Remove Harmful Contaminants, Bacteria & Viruses?
This is obvious. But you should take note that old-fashioned water dispensers like bottled water dispensers generally do not filter the water.
On the other hand, a modern water dispenser can remove harmful contaminants and reduce pathogenic bacteria & viruses. Your water is cleaner, safer, and your cup noodle certainly tastes better.
4) Is the Brand NSF Certified?
While "NSF" is a more common factor in buying water filters, it is also applicable in water dispensers.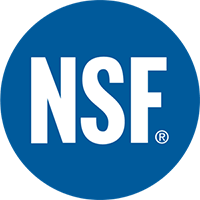 Quick Tip: What is NSF Certification?
NSF International is an accredited, independent certification organization that tests and certifies products to verify they meet public health requirements. NSF runs more than 165,000 square feet of lab and serves over 150 countries around the world.
Unfortunately, not all water dispensers (and water filters) in Malaysia are NSF certified. When buying a water dispenser, you should check if it is NSF certified because it offers you the simplest proof of meeting the international standard.
---
What is the Best Model of Water Dispenser for Malaysians?
You have many options to pick from today when buying a Malaysian water dispenser.
One of the most popular models in Malaysia and even around the world is the 3M Filtered Water Dispenser HCD-2.
As the official 3M distributor in Malaysia, we might be biased, but certainly for a good reason.
This countertop fitted water dispenser is affordable and provides you with all the modern features that you need, just like this video shows you:
If you do not want to watch the video, here are some quick reasons why 3M Filtered Water Dispenser HCD-2 is the best water dispenser currently available in Malaysia:
1) Free from BPA
3M has become a go-to manufacturer of safe, BPA-free water dispensers in Malaysia and across the rest of the world.
2) Ultraviolet Technology
Deactivates viruses and bacteria which have built up in the water, making it safe.
3) NSF-approved Water Dispensation
This is the most thorough test for a water dispenser in the world, making it feel even safer for you to use.
4) Stress-free Cartridge Changing
Another benefit of 3M Filtered Water Dispenser HCD-2 is that it can easily be used to change and swap out the cartridges in seconds.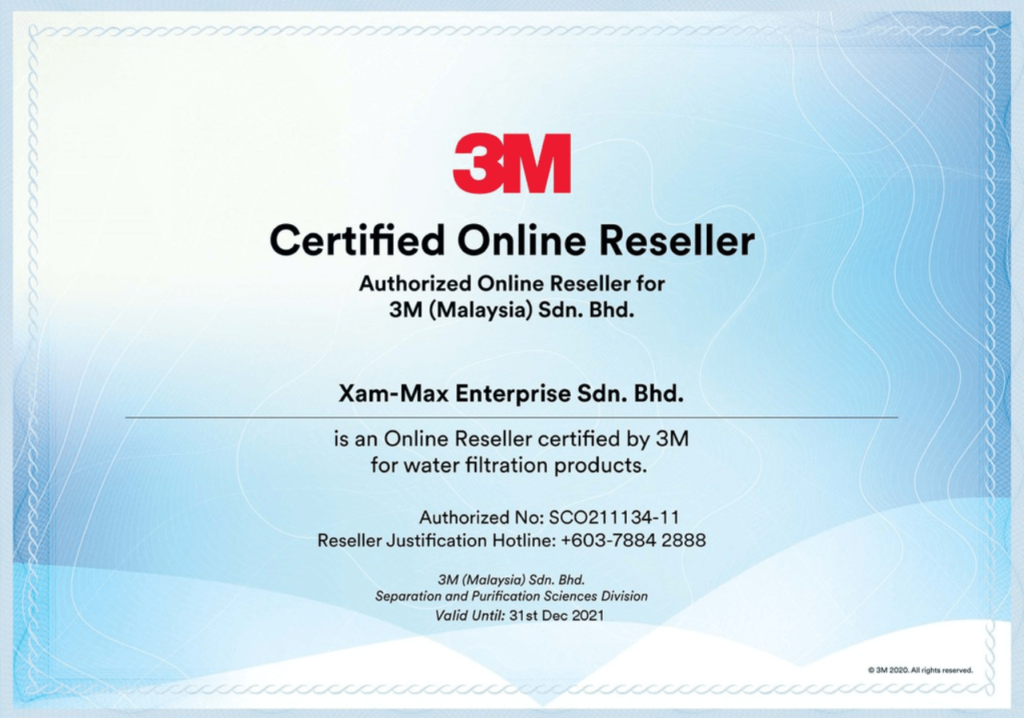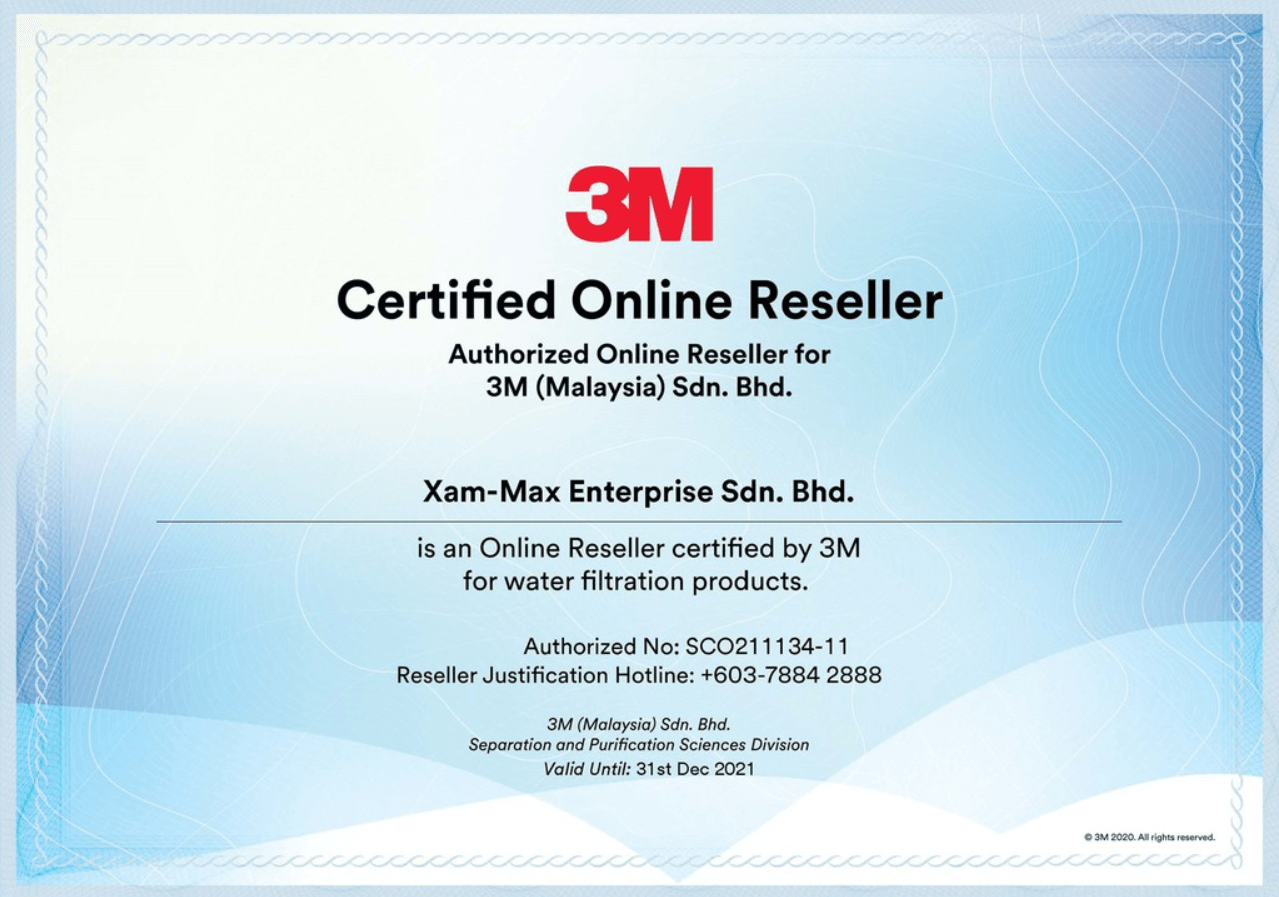 Click here to order 3M Filtered Water Dispenser HCD-2 online now from XAMMAX, 3M Malaysia authorized online reseller.
The 3M Filtered Water Dispenser HCD-2 is a trendy water dispenser with a large capacity. So you can use it in your home, office, or restaurant. The design is perfect for small spaces. Its outstanding features make it excellent for handling heavy usage.
Some of its features include an instant boiling mechanism. In less than 90 seconds, you can get freshly boiled water. Also, it minimizes scale formation on the heating pan.
The ultraviolet technology in the 3M Filtered Water Dispenser helps kill bacteria and viruses to ensure you get safe and clean drinking water. The unique blend in the dispenser also helps to prevent bacteria growth and keep your water safe.
So, as you can see, the HCD-2 model from 3M might be one of the wisest investments you make this year. Peace of mind and the right build quality is worth paying for, after all.
---
The Best Water Dispenser – How it Really Helps You
Health Benefits
If you love to drink only ice-cold water, you will find water dispensers to be a great addition to your home or office.
No more would you have to go the extra mile of getting ice cubes into your drinking water.
Freeing yourself of this extra stress might even encourage you to drink more water, improving your health in the long term.
They Serve As A Water Purifier
Usually, there is a water filter that follows a modern water dispenser.
The water filter helps to rid your water of contaminants and bacteria that are associated with tap water.
With a modern water dispenser that comes with a filtration system, you are sure that you and your family are drinking clean and safe water.
Saves Time
Having a water dispenser would ensure that you no longer have to waste time boiling water for drinking. You can also make your favourite drinks like probiotic drinks in less time.
Doing this will save you time, and it would also save you the effort you can put into other things useful.
You would also save yourself some money that you would otherwise use to buy water filters.
Easy To Use
You may think that changing the water filters of a water dispenser might be a little complicated, but you would be pleased to know that changing the water filters is easier than you might think.
Keep in mind that every water dispenser brands in Malaysia are different. You should invest in one that allows you to easily replace the cartridge on your own.
---
Types of Water Dispensers
In Malaysia, when people are talking about water dispensers, they are generally referring to these 2 types of water dispensers: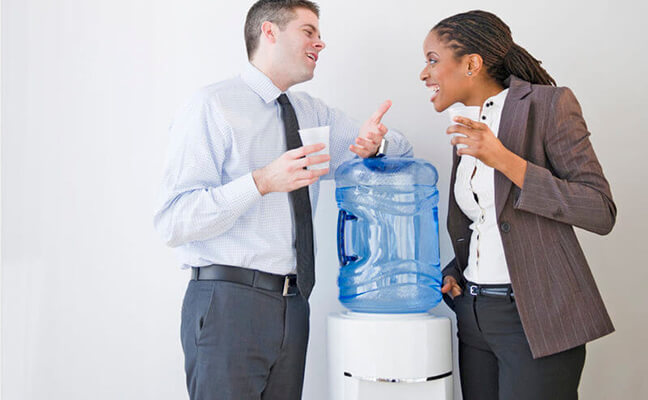 You must have seen the bottled water dispenser many times (I hope you're not the one replacing them!).
It is the more common type you would find in shops and offices. There are always 5-10 gallons of water at the top propped to the dispenser.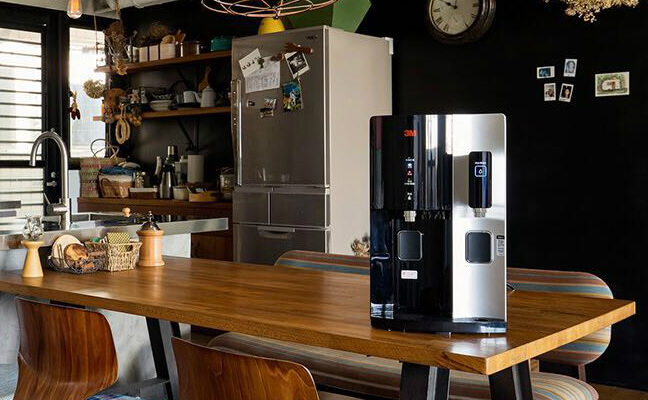 The plumbed-in dispensers are point-of-use water dispensers that you plug directly into the water supply line.
It is the type that does not require you to replace water bottles like the bottled type since there is always a free flow of water supply.
A water dispenser is useful in almost every home and office. Hence, it is essential to choose the one that best meets your needs.
Water Dispensers FAQ
Which is the best water dispenser brand in Malaysia?
If you take NSF certification, technology, and the ease of cartridge replacement, 3M is probably something you look for.
Are water dispensers same as water filters?
A modern water dispenser should be able to offer clean water as well as hot water on demand.
How much does water dispensers in Malaysia cost?
A quality hot cold water dispenser cost around RM3000. You should also consider the cost of cartridge replacement in long term.