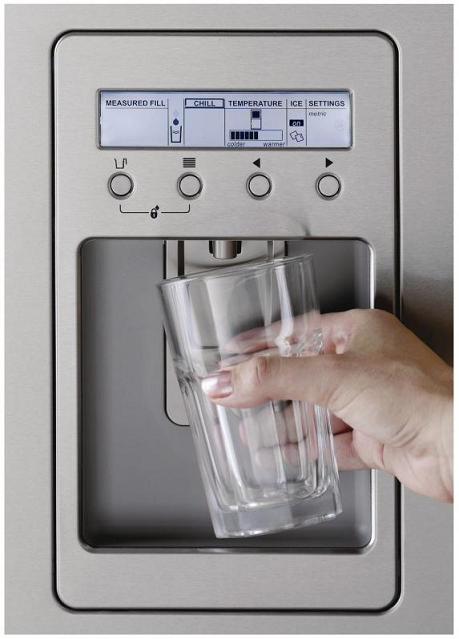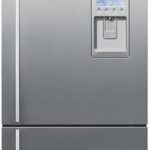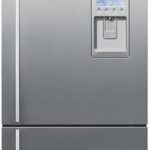 Fisher & Paykel Bottom Freezer E402BXFDU
In stock
Free shipping on orders over RM500!
100% Genuine with Full Warranty
Secure Payments
ACTIVESMART TECHNOLOGY
What is ActiveSmart™?
ActiveSmart™ consists of a microprocessor, interior temperature sensors, independently controlled variable speed fans and multiple air ducts. The microprocessor controls how the refrigerator operates based on changing patterns of use.
The sensors continuously send information to the microprocessor, which analyses and adjusts the fan speed and compressor operations accordingly to deliver a consistent and stable temperature. Continuous feedback means that ActiveSmart™ adjusts to the way you live. Its ability to respond to daily use means that it only uses the energy needed to keep your food fresher for longer.

How ActiveSmart™ helps you
Independent Control = Better Food Care
The Humidity Control System, together with the cool and consistent temperature delivered by ActiveSmart™ Technology, creates the perfect microclimate for your produce.

Greater Intelligence = Greater Efficiency
Sensors constantly record changes to fridge and freezer compartments, including when the doors are opened and when new items are introduced, ensuring temperature in each compartment is kept constant.

Rapid Chilling = Optimised Food
Preservation Independent variable-speed fans control airflow through multiple air ducts to all compartment as well as rapid chill and freezing to ensure food safety and maintain food quality.
FEATURES
Humidity Control System
Fruit and vegetable quality can be maintained at the right humidity and temperature level. The Humidity Control System, together with the cool and consistent temperature delivered by ActiveSmart™ Technology, creates the perfect microclimate in each produce bin. Two humidity control slides offer settings for both fruit and vegetables to retain optimal moisture and freshness.
Ergonomic
Uninterrupted wide-open spaces and numerous shelving options enable easy customisation for different uses. Quality extension runners allow you to slide out trays fully for easy loading and unloading in the fridge and freezer. The storage bins are also removable, making food preparation and cleaning easier.
Efficient
Alarms on the refrigerator and freezer alert you if the door has been left open. Adaptive defrost means that there is no need for 'holiday mode' settings. ActiveSmart™ will select the best time to defrost based on how the appliance is being used. When you are away, it will recognise lower levels of use and defrost less often, therefore requiring less energy.
Safe
Secure glass shelving contains drips and spills and prevents them from falling on items stored below.
Ice & Water
Ice & Water models deliver chilled, filtered water automatically. The slimline touch pad and angled water delivery mean that almost any size or shape of vessel can be filled. The icemaker automatically delivers ice into a dedicated bin and can be easily customised to store different volumes.
Design
Concealed hinges create a seamless finish, while flat, vertically brushed EZ Kleen stainless steel doors will add sophistication and complement any kitchen.
ADDITIONAL INFO

Performance

ActiveSmart™ system
Frost Free freezer
Adaptive defrost
Humidity control system
Humidity control lid
Sabbath Mode
Fridge

Water dispenser
Door alarm
Adjustable glass shelves
Bottle rack
2 full width adjustable door shelves
2 half width adjustable door shelves
2 covered door shelves
2 egg trays
Halogen light
Freezer

Built-in ice maker
1 large plastic bin
2 small plastic bins
Ice bin and scoop
1 centre roll out tray
Door alarm
Only logged in customers who have purchased this product may leave a review.
good staff..detail info ... good product..
The sales is very helpful and provide advice during installation. Looks clean and neat compare to normal socket
Indeed the water taste pleasant !
Very responsive and helpful seller We bought Smeg cooker + hood. Got plenty of freebies. All comes under guaranteed warranty. Happy with our purchase
Unique design with combination of new technology and good performance, just what I m looking for.
Jennifer Aileen
2023-03-03
The Rinnai hood and hob look sleek and functional. After sale service is also good.
Khor Ting Loong
2023-03-02
Good service and prompt follow up from the salesperson, got complimentary gift as well.
The Kitchen Hood is a high-quality, durable and stylish kitchen hood that will help the kitchen clean and smoke-free.
I'm very satisfied with the quality of the product. A hood without any consumable part saves a lot of hassle. The suction is also very powerful. Although most of the hood nowadays comes with touch sensors, the old-school mechanical switch design is still my favorite somehow, which gave me a practical feeling when using it.